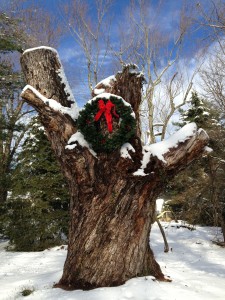 This December, we hung a big wreath on the craggy maple stump in front of our house.  It seemed like an interesting, if unexpected, spot for a wreath.  And by decorating the tree, we could send a message to those who might see it as a business opportunity, as well as to those who think the stump is unsightly and wonder why we leave it standing.  The wreath says, We love this old tree trunk, and we're letting nature take its course.
Then I thought a little more about it, and the pairing struck me as even more appropriate in its juxtaposition of life and death.  The stump is the opposite of the traditional evergreen Christmas tree.  Firs and spruces, retaining the appearance of vitality through the winter, get the privilege of being cut down, hauled into our homes, strung with lights and ornaments, and left to wither and die.  It's tough work, being a symbol.  Our maple, though, would be in no such danger.  If intact, it would be gray-brown and leafless by now, like its neighbors in our yard.  But of course, it's a stump, a snag, and already dead.  Yet it harbors vast, unseen colonies of creatures that go about the business of breaking down lifeless material.  It won't be long before nature's course is run.  The stump may not be here next year; its center is soft.  All the more reason to decorate it this year.
My husband and daughter hung the wreath one weekend afternoon, as I was napping, trying to get over a persistent cold.  When I trudged out to the road to see their handiwork, a new insight hit me.
I like to think that God works with us for good, despite ourselves, despite our selfish intentions and our vanity.  I initially wanted to decorate the tree because I thought it would look pretty, if a bit odd.  In truth, it was a way of declaring a certain pride in being different, in having the ability to see beauty where others see ugliness.
But once up, the wreath reminded me of a greater truth, of the essence of my Christian faith.  Out of death comes new, transformed life. How better to say it than in the words of John 3: 16:
For God so loved the world that he gave his only Son, so that everyone who believes in him may not perish but may have eternal life.

And then the snow settled beautifully on the wreath and the tree, on the green and the gray, on the quick and the dead, like a blessing from above.