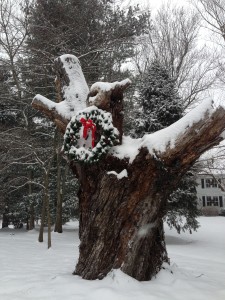 The first snow of 2015 arrived here in Northern Virginia in the early hours of January 6.  This final, twelfth day of Christmas marks the visit of the Magi, who followed a star to worship and present their rare gifts to the baby King.  
You could say, then, that we had a somewhat delayed white Christmas.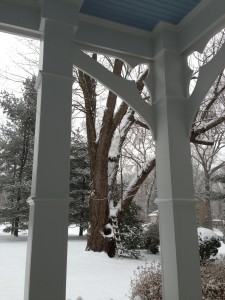 Much to the disappointment and astonishment of my daughter and other local kids, school went on as usual, without even a delay.  After our ten snow days last year, we've come to associate even the slightest rumor of a snowflake with a school cancellation.  The snowfall was heavier than predicted, so our winding old roads saw many accidents and delays.  The elementary school bus in our neighborhood was so long in coming, and reports of road conditions so bad, that parents were discussing simply letting the children stay home. 
The dog walking, however, was fine.  Kiko and his friend Ziggy the ridgeback were playfully exuberant.  Kiko had to show Ziggy how fast he can run, stop and turn, repeatedly.  The temperature was in the low 20s, and the snow was the light, powdery kind that doesn't clump and irritate furry paws.  Both dogs looked festive in their wispy Santa snow beards. 
Because of this morning's extensive traffic problems, the kids can probably rest assured that the next time snow is forecasted in our area, it will come with a school closing.  My daughter, no doubt, is betting on it.