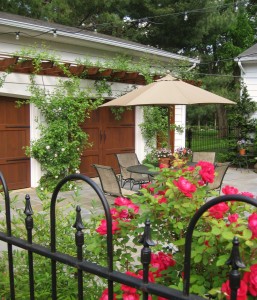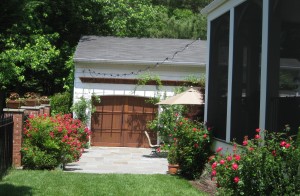 By early May of 2011, two years after planting, two of the three climbing roses had reached the trellis.  The shrub on the left lagged a bit behind.  Narrow vines were bursting forth with bright green leaves, and buds had formed.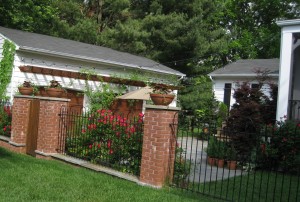 The red double knock-outs by the fence and the porch were nearing peak bloom in the photos above.  They had filled in considerably and surpassed the nandina in height.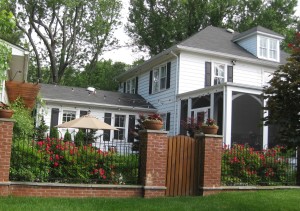 This view from our neighbors' yard shows the dense barrier formed by the red roses along the iron fence.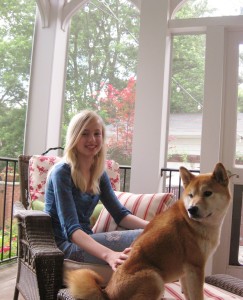 At this point our daughter was twelve and nearing the end of sixth grade.  She was more than ready to be free from the annoying constraints of elementary school, with its hallway stop signs and arbitrarily awarded stickers for standing quietly in line and not acting the fool.  That April, she and I had accompanied my parents on a Danube River cruise.  She'd been more like a sister or friend than a daughter on that trip, a capable, fun companion with whom to explore Budapest and Passau while my parents remained aboard the ship.  She'd certainly seemed older than twelve.  Somehow it's comforting that, at least in the photo above, she looks much as I think of her today. 
Kiko was five then.  His appearance remains unchanged.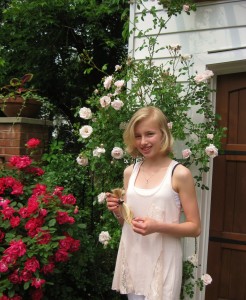 By mid-May of that year, the pale pink roses were in full bloom. 
As for our daughter, she'd decided to cut her hair, which had grown longer than ever before.  (I hadn't been in charge of her hair for several years.)  After great deliberation, she'd made the change, just in time for the sixth-grade dinner dance.  In our area, this is a pivotal event that heralds the end of elementary school.  It's orchestrated in minute detail by tireless PTA committees, highly anticipated by parents and sometimes even enjoyed by students.  The theme that year was "A Night in the Tropics."  For the girls, the dance meant the need for a new dress, one closer to semi-formal than Sunday School, despite the school's insistence that it adhere to strict school-day dress code regulations.  Many girls, like my daughter, appealed to parents to let them try out higher heels than those to which they'd been accustomed.  Photos from that night show her and her friends in that slightly uncomfortable coltish stage:  all bony shoulders and long legs, little girls teetering in big shoes on the verge of growing up.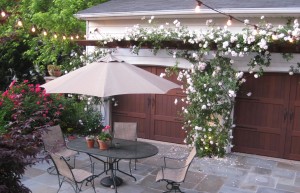 By 2012, the following year, three years after planting, even the climbing rose at left had attained trellis height and begun to wind its way across.  In late May, all the roses, red and pink, were in lush, abundant bloom, turning our courtyard into a cozy outdoor room.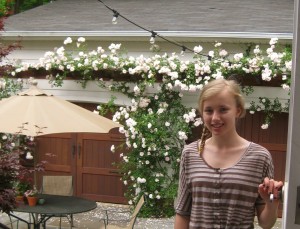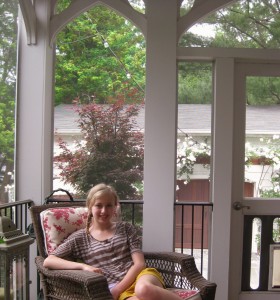 Our daughter had made the jump from tween to teen, from elementary to middle school, and we could all breathe a big sigh of relief.  Just as she'd expected, she reveled in the greater freedom:  changing classes, her own locker, electives like shop, news team and drama.  And once in a while, the opportunity to walk into town after school with friends.  We'd read and heard much about the minefield of the middle school years, a life stage fraught with angst and peril.  While I understand that not all kids are so fortunate, for D those worries were overblown.  No doubt it helped that she entered seventh grade with a solid group of long-term, likeminded friends and an attitude that helped her forge new friendships.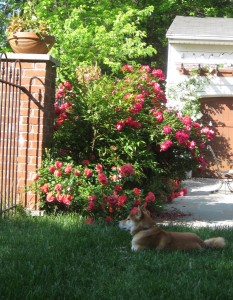 And then there's Kiko.  Lying in the cool grass of three summers ago, he looks exactly the same today.  A dog can be a big help toward denying the passage of time.