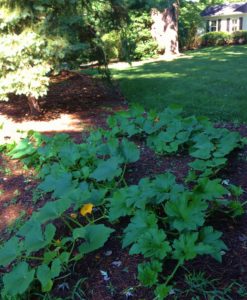 This past summer, we were treated to not just one, but two spontaneous squash gardens in our front yard.  The expected pumpkin patch popped up in the maple stump compost pile, as it has for the past two years.  (See posts from November 2016 and July 2015.)  Another, even larger, sprang up in the mulch bed nearby.  The hard-working, fast-moving vines claimed many square feet of ground, producing big fuzzy green leaves and bright yellow blossoms.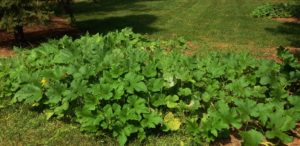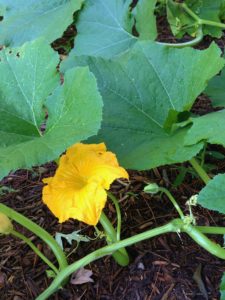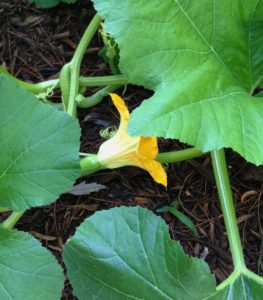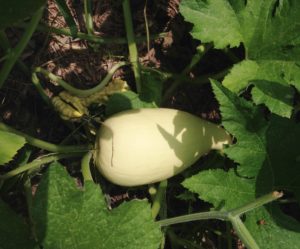 Pale yellow pumpkins, elongated ovals, grew from some of the flowers.  Others produced dark green fruit of similar shape.  And still other buds grew into beautifully ornamental gourds of yellow and green, some warty, others with smoother skin.  In the photo above, a knobby-skinned gourd is partially visible just to the left of the pumpkin.  I found no discernible differences in the foliage, although two types of vines must have been present.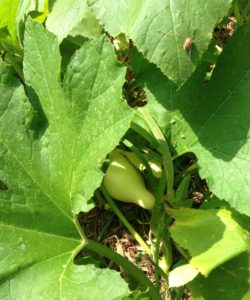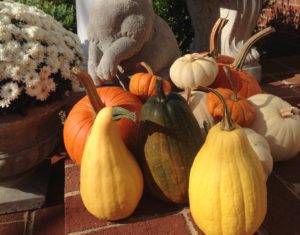 Many small proto-pumpkins appeared, but most were claimed by squirrels or deer.  Our fall harvest consists of the three tall guys in front.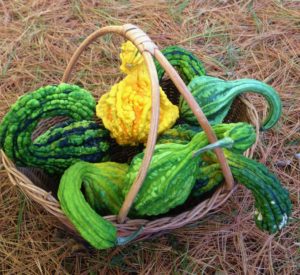 The gourds were evidently much less popular with the critters.  A few succumbed to nibbles, but seven small long-necked gourds survived until fall.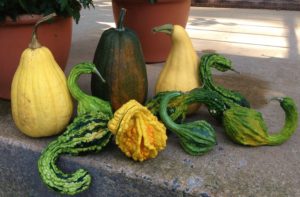 The spontaneous pumpkin patch is the lazy pseudo-gardener's dream, as  it requires neither planning nor planting by human hands.  Simply compost pumpkins past their prime, and let nature take its course.  This year's harvest could fill a sizeable Thanksgiving cornucopia to overflowing.  I wonder what our little patch of earth will bring forth next year?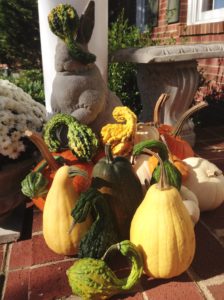 All is safely gathered in, 'ere the winter storms begin.