On this first day of spring, the fourth Nor'easter in three weeks is menacing the east coast.  It's been dubbed Winter Storm Toby, apparently.  A cold rain falls here in northern Virginia, likely turning to snow later in the day.  March, we are told, has been colder than February for the second year in a row.  It sure feels that way.  Every morning, as I check the weather on my phone in preparation for walking with Kiko and our pack, I'm dismayed.  Another frigid day, often accompanied by biting winds.  I'd hoped to have packed away the long underwear by now.   
The famed Nation's Capital cherry tree blossoms are on hold.  The forsythia is making only a half-hearted showing, as are the daffodils.  I've seen only one crocus.  It looked lonely, bedraggled, and full of regret.  Not a trace yet of the grape hyacinths I planted two falls ago that bloomed so beautifully last year.  Very few touches of green have appeared on winter's gray-brown palette.  Spring remains in hibernation.
March really took to heart that old saying about coming in like a lion.  At the beginning of the month, our area, like many parts of the east coast, was besieged by fierce gale-force winds for two days.  Uprooted trees and branches, snapped like toothpicks, wreaked havoc on power lines, cars and some homes.  A huge pine sliced through the roof of a home in our neighborhood like a sharp knife through a birthday cake.  It narrowly missed the little daughter's bed. 
We were lucky. We were spared any property damage, and no family members were trapped on roads or in airports.  Our daughter arrived safely home for spring break to a dark and rapidly cooling house, but we had no cause for complaint.  (Why, I wonder, must the week of spring break always be among the year's coldest?  Some of the few snows I remember from my college days in Athens occurred during spring break.)  
When the winds at last died down and we ventured out to clean up the debris-scattered lawn, I gathered some of the branches blasted from our maple and cherry trees, brought them inside and put them in water.  Many of the buds have opened now.  Bright green maple seedlings and delicate white cherry blossoms attest to the promise of spring.  I have the evidence.  The season of new life may be biding its time, but it's coming.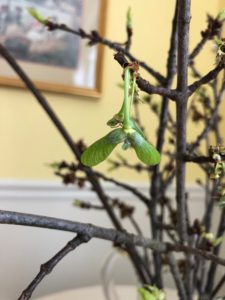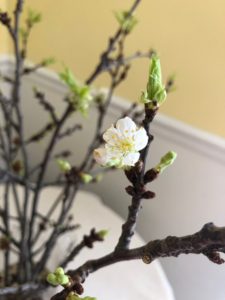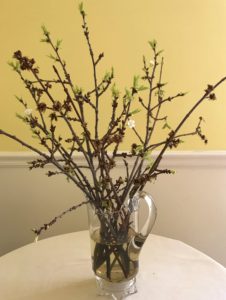 Spring knew best to wait.  The rain here has turned to sleet.  Ice crystals weigh heavily on pine branches, and white patches are visible around the bases of trees.  May this spring storm be winter's last.