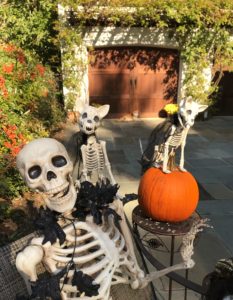 Halloween season is in full swing, as is our Skeleton Crew of merry mirth-makers.  In early October, Slim and the pups emerged from eleven months of quiet repose and restorative rumination in the shadowy comfort of my mother's basement.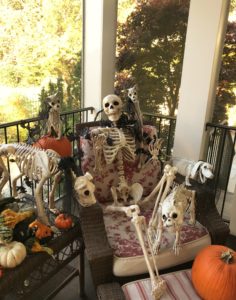 For the past few weeks, they've enjoyed roaming from our house to hers, snacking, lounging, soaking up sunshine as well as rain.  They savor weather in all its forms.  Slim, widely renowned as a scintillating conversationalist and acute observer of the human condition, has considerable wisdom to impart.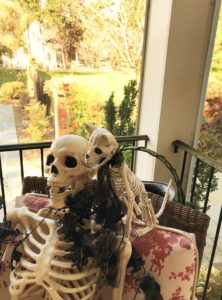 With the tiniest bit of coaxing (or sometimes none at all), he delves into his endless cache of beguiling tales and truly ripping yarns.  As my father would say, that skinny guy "really can talk."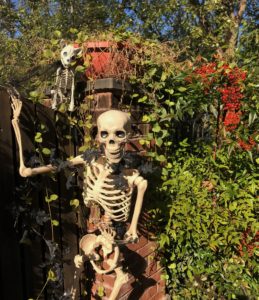 When the month is winding down, the gang is gearing up.  They're  more than ready to let loose their insouciant charm and plunge full-throttle into fall festivity.  High-jinks ensue.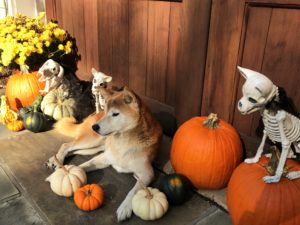 While Kiko enjoys smallish doses of the company of his furless friends, their boundless enthusiasm tends to grate on his nerves.  In the very top photo, he has sought out an isolated patch of sun by the garage.  Before long, though, the pack is upon him again.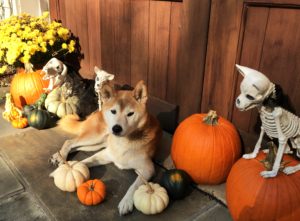 These puppies will never grow up, he sighs.  How tedious it is to be the object of so much unbridled adoration.  What's a senior dog to do?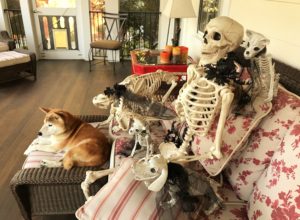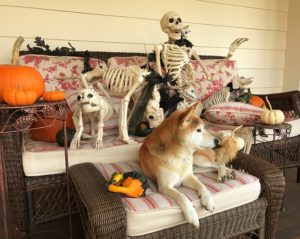 Perhaps with an absence of encouragement, they'll lose interest.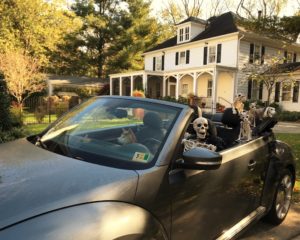 And then Slim suggests a spin in his favorite vehicle.  Top down, of course.  Gotta feel the cool autumn breeze in one's silky locks.  With a knowing look he turns to Kiko and asks: Why not head down to Charlottesville and check in with your sister, old man?  We'll be back before the trick-or-treaters arrive.  
The college kids love Slim.  Plus, he's an architecture buff.  And a tad vain.  The Lawn and Rotunda, dressed in fall foliage, will serve as a striking backdrop for photographing his good looks.  Also, he and Mr. Jefferson were kids together, back in the day.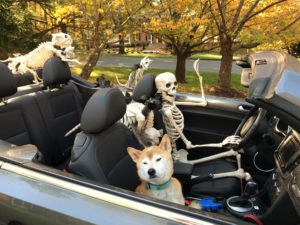 Kiko needs no further nudging.  He's stirring and stretching, preparing for a full-body shake.  He remembers why he loves this garrulous guy after all, and why it bodes well to tolerate his pack of yippy beasts.  Halloween joyride!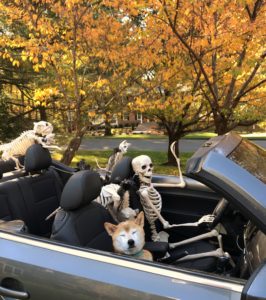 At last, the top dog can finally get some serious shuteye. 
Happy Halloween, everyone!
For previous Skeleton Crew posts from years past, see here.