An easy, stress-free approach to egg decorating (much appreciated after our Ukrainian conflagration) is this technique for marbleizing eggs.  Having learned a valuable lesson, we began by boiling our eggs.  We used the dye tablets from a typical kids' egg decorating kit, added a drop or two of olive oil, and immersed the eggs.  The results are pretty, if subtle.  No unusual tools, hot wax or flames required.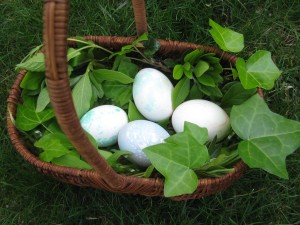 We wanted very pale colors for these eggs.
Darker hues, of course, are possible using longer dyeing times.