I love nature's seasonal costume changes. How appropriate it seems that fall, the prelude to sensible, somber-toned winter, is given the year's showiest, most brilliant colors.  I think of fall as nature's show-stopper, the big number, the tune you'll be whistling long after the leaves have fallen, when the air is resolutely chilly and darkness comes too early. 
The leaves of this towering catalpa tree glow green-gold over our town's reconstructed one-room schoolhouse.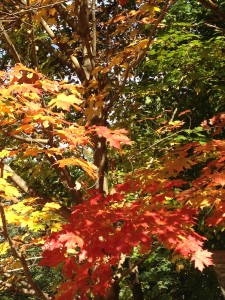 The maples, of course, claim some of the brightest  and most varied colors in the paint box.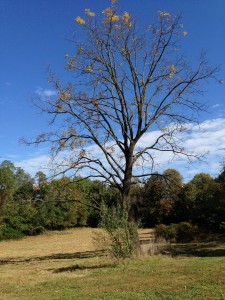 This tall black walnut tree is quick to let go of its golden leaves
and turn its face toward winter.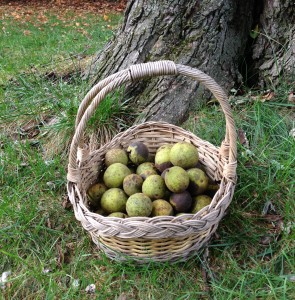 Squirrel treats:  black walnuts, almost the size of tennis balls,
drop heavily from the trees in our yard every fall.  I gathered these so I could watch the squirrels remove them.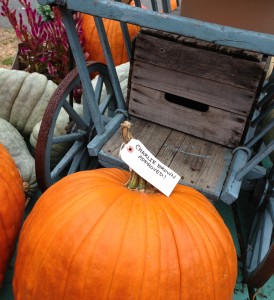 Pumpkins at the ready at our local farm market.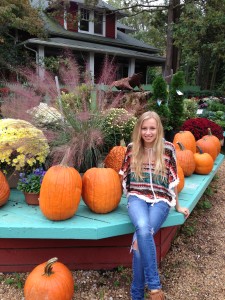 My daughter looks forward to our annual pumpkin picking.
She loves fall as much, or maybe even more, than I do.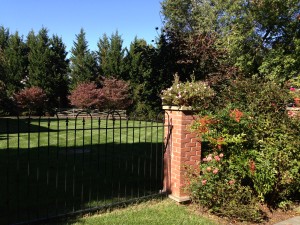 Harmony in pink and green:  In October, the rosy brick on our fence finds a coordinate in the leaves of our neighbor's dogwood trees.