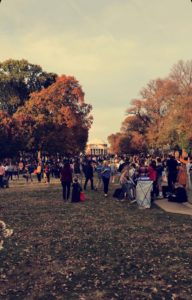 Things have a way of working out swimmingly for our skeleton friend Slim, especially on Halloween.  Merrily and swiftly, he piloted his pack to Charlottesville without incident, arriving at UVA with plenty of time for trick-or-treating on the Lawn.  In a costume-wearing crowd, the unadorned authenticity of the group stood out.  Slim was greeted as a celebrity (as he typically is, wherever he goes).  Our daughter, who was there with friends, soon spotted her old buddy, the center of attention in a multitude of admirers.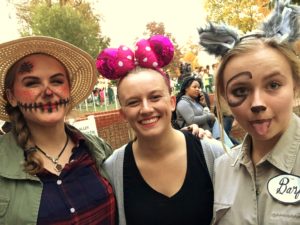 D was dressed as Barf the Dog from the movie Spaceballs.  She wore my 1980s Banana Republic khaki jumpsuit, furry ears and the appropriate make-up.  Slim approved, as he's an avid Mel Brooks fan, and the pack welcomed her as one of their own.  
Kiko rapidly got his fill of the festivities and the press of the throng.  He retreated to the shelter of a stately column and resumed his nap.   And as for costumes, he says no.  Since submitting reluctantly to an ill-fitting red fleece vest (made by my mother without access to any actual measurements) for his first Christmas card photo, he wears only his own fur.  Should he encounter a costume-wearing canine, more than a trace of condescension is evident as he sniffs a greeting.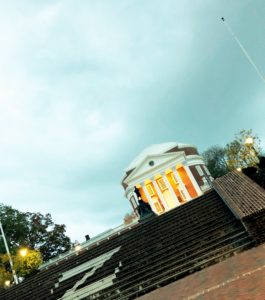 Slim, ever the people person, could have mixed and mingled until the wee hours, but he honors his commitments.  Just as his faithful lead dog, Fluffy, was about to point out the time, Slim began to say his goodbyes.  The Crew was needed back in Northern Virginia.  They would not disappoint.  I've learned not to doubt my friend's word.  His integrity is beyond reproach.  Plus, he seems to be able to bend time according to his whim.  Just as I was putting the tea lights in our jack-o-lantern votives, the car zipped up the driveway.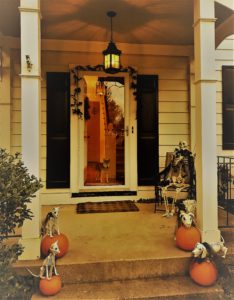 The gang hopped out and assumed their places.  They're good at freezing in position, so as not to frighten the unsuspecting.  Kiko looked out the storm door to assess the situation, sighed and retired to the sofa.  The night was only just beginning for Slim and the Crew.  But Kiko can only take so much Halloween.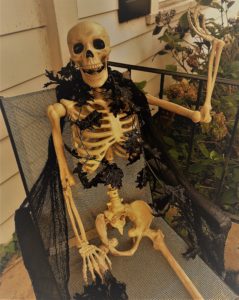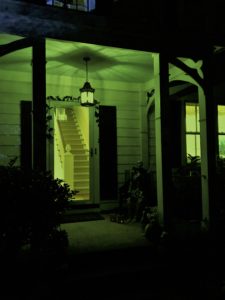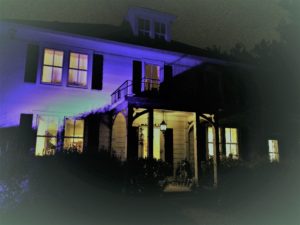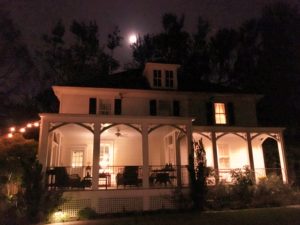 Until next year, folks!  Goodnight!