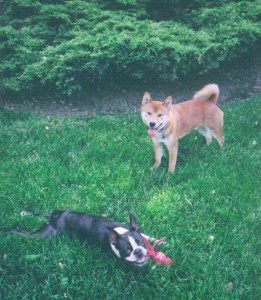 Kiko had a reunion this week with an old pal, Beau the Boston Terrier. Their friendship was sealed the day they met in the neighborhood, nearly four years ago, when Kiko peed on Beau's head. During their puppyhood they were best buddies, frequent companions for walks and exuberant doggie play-dates. The question "Kiko, Want to go see Beau?" was answered by an especially enthusiastic tilt of the head. Celeste, Beau's owner, is a lovely, easy-going woman (she laughed when Beau was sprayed by Kiko), and I liked her instantly. Twice a week, for an hour or so, she and I would talk and watch our dogs tear around her spacious, fenced back yard. We had no fence at our house then, and running free was a great luxury for Kiko. Beau is highly proficient at Frisbee-catching and tennis ball retrieval. Kiko does not excel at these pursuits; he cannot grasp the concept of running away from the object as it's thrown. But he is fast. He used to be lightning-fast. He could turn on a dime, reverse directions in a flash, and leap like a deer. He very nearly flew, and it was exhilarating to watch him.
Our dogs' lively play-dates were cut short when Beau required knee surgery. Several months later, his leg had healed, but before we could meet again, Kiko was injured, in our own newly refurbished yard. When we moved in, the area behind our house was not a yard but an expanse of cracked concrete that might surround an aging gas station; there was considerable room for improvement. By this time we were almost finished with the renovation. We had our wrought-iron fence, a grassy area, stone patio and a new porch that still lacked screens and railings. Kiko and I had returned from a walk with two friends and their dogs, and I invited them in for a short off-leash run. This was the very first time Kiko had played with guests in our new yard.
He appeared thrilled at the opportunity to impress his large lady friends, a Lab and a Doberman. He sped around crazily, a blur of red fur. When he could run no further, he paused, panting mightily, to survey his domain from the porch. Then, going for the big finish, he leaped off into the grass. He must have landed wrong. Kiko is tough, and he didn't whine or cry. But he was hurt. He sat down at once, holding up his hind leg gingerly. He flattened his ears against his head, looking up at me imploringly and pitifully.
At this point, my mind launched into the absurd, frustrating routine I think of as the "If Only" game. I try to rewind recent unfortunate events. If only I could move time backwards and not let the dogs play. If only I could keep Kiko from taking that jump.  If only, etc., etc., until I feel like screaming.
Had Kiko simply broken his leg it might have been easier. Instead, the injury was ambiguous, perhaps a micro-tear in the Achilles tendon, perhaps something else. A complicated surgery was a possibility, but because the outcome was uncertain we didn't seriously consider it. For six weeks he wore a bright green splint. Tight and itchy, of course he hated it. The splint was to be kept dry. We were given an I.V. bag to tie around the splint during rainy-day walks. This was not a good solution. He had only to kick his leg a bit to send the bag flying. Duct tape and plastic wrap were no more effective. Sometimes I didn't notice the missing bag for a while, until I turned to see it lying in a distant puddle. When this happened, all I could do was carry my dog home. On many occasions I could be seen trudging through the wet leaves, Kiko in my arms, the rain pouring down my face. I felt like an actor in a made-for-TV post-Apocalypse drama.
It's been two years now since Kiko's fateful jump. On most days he seems fine, but he has lost some of his amazing speed. And he will probably always run a little strangely. His back legs tend to move simultaneously. We don't encourage him to run for long periods, but since he's older, he tires more quickly anyway. There is always the chance that he could re-injure his leg.
This week marked the first time Kiko and Beau have played in our yard. Kiko looked elated to see his buddy, and he showed him that he can still move. They ran together with something close to their former energy and speed, but only for a short while. Celeste and I leashed them and went for a walk. By then they were subdued. As a puppy, the excitement of being out with Beau often incited Kiko to bursts of frenzied circuitous sprinting. If Celeste and I weren't vigilant, we'd be tangled up in a pretzel-like configuration of leashes, dogs, mailboxes, shrubbery and bystanders. This time there was no such juvenile behavior. Our dogs are young adults. How quickly they grow up!