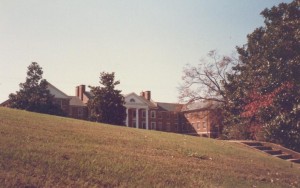 My trip to Atlanta was occasioned by a reunion of old college friends from the University of Georgia. We met as freshmen living in the basement corridor of a wonderful old dorm, Rutherford Hall. We were saddened by the recent news of the decision, despite much protest (including ours), to demolish Rutherford and build a larger, more luxurious new residence hall in its place. Out of six former Rutherford girls, only three could rearrange our lives to attend. But three good friends together again after so many years is nothing to sneeze at.
Sarah (all names have been changed) had recently moved back to Atlanta, after years in England with her family. Always the gracious hostess, she volunteered her comfortable home as our headquarters. The last time I saw Sarah I was moving to New Jersey. Then recently married, she offered her guest room in Delaware as a stopping point on the drive up. Her hospitality and sense of classic style remain flawless. She retains the ladylike reserve that made her seem wise beyond her years at eighteen, but it's a reserve that she lets slip a bit when she's in the company of old friends.
Jackie was flying in from Montana, where she has lived now for two decades. I've known her since middle school when were both on the school newspaper staff. She was renowned for her articles on European travel. My first memory of Jackie is a newspaper photo showing her seated in a Venetian gondola. I was impressed, and somewhat envious. Our typical family vacation involved visiting relatives in rural Kentucky. Knowing her background, I expected her to be conceited and snooty, but she was nothing of the sort. She was, and still is, a person of kindness and integrity, as well as a magnet for fun and adventure.
Jackie was among my closest companions when our 8th grade French class, amazingly, took a spring break trip to France and England. (This was unheard of in the Atlanta Public Schools in the 1970s, but we were blessed with a remarkably spunky French teacher who was determined to turn us into citizens of the world. She found a study trip that was extremely bare bones and thus affordable.) On my very first airplane flight, I sat next to Jackie the seasoned traveler as we flew to New York and then on to Paris. I felt incredibly lucky. By day we saw the famous landmarks I had pored over in library books and old copies of National Geographic. By night, we sat up late giggling with our friends in French lycees and London dorm rooms.
Jackie and I roomed together during our freshman year in college. I remember vividly my surprised happiness the day she called to ask me. I had planned to accept a luck-of-the-draw, university-assigned roommate, and I probably would have landed in a soulless freshman high-rise.  Jackie's older sister had lived in Rutherford, and she recommended it for its large rooms, atmospheric appeal and central location. Had I not roomed with Jackie, my first year of college would have been far less memorable. She drove a flashy Firebird, which wasn't really her style, but it was the car her dad bought her, and she piloted it with flair. (No one else in our group had any kind of car.)  She also had an affable older brother in a fraternity. The night before classes began, Jackie took our Rutherford group over to the Kappa Sigma house. My social life was set for the next couple of years. As time has passed, as we've reveled in life's ups and weathered some significant downs, our friendship has grown stronger.
Jackie, Sarah and I had much to reminisce about. We were first drawn together by a shared housing woe. Water seeping into the foundation had flooded the room next to Jackie's and mine. It was pouring across the hall toward Sarah's room and trickling up to ours when we got to work with towels and buckets to keep the water at bay. The girls living in the flooded room had to vacate, which was too bad, but it left us with a convenient guest area for visiting friends. We weren't bothered by damp and mold so much in those days, and we didn't expect a hotel lifestyle. That spring, after another flood, we brought in masses of bamboo from a recent luau and our little hall became as atmospheric as a cloud forest.  Instead of being irked by the inconveniences of living in an older dorm, we saw them as creative opportunities and part of Rutherford's ramshackle charm. 
During our first quarter, Jackie enjoyed an especially active social life.  She rarely cracked a book, but on the weekend before finals, she decided to start studying. While she crammed in the library, the rest of us camped out in our room and zealously created some comically spectacular cut-and-paste art in her family photo album. We used pictures and captions from my National Lampoons and a magazine coyly titled For Women Only that one of us had received as a joke gift. (We were respectful in our mischief; we did nothing that couldn't easily be undone.) It took a while before Jackie discovered our many-leaved masterpiece, and the anticipation of that revelation made it even better. When she finally removed the album from its shelf to show a friend, several of us were there to witness the hilarity of her shock. As we had expected, Jackie appreciated the humor and recognized the prank as the twisted compliment it was intended to be. 
Our best times that year arose from similarly mundane circumstances.  We kept our doors open nearly all the time, to encourage frequent socializing and pronounced time wasting. We had great fun paging through the Freshman Register (a Facebook predecessor) and making silly phone calls to cute boys. If, by chance, we received a prank call, we were prepared. We'd pass the phone around to everyone in the hall, each of us adding some outlandish comment, to puzzle and embarrass the unsuspecting caller. Glorious fall days like today remind me of freewheeling Sunday afternoon drives in the Athens countryside.  With Jackie behind the wheel, we'd discover local eccentricity and explore the occasional abandoned farmhouse or unexpected University-owned structure.
Our little Rutherford reunion brought with it the realization of how precious and fleeting is the sense of community that flourishes so vigorously during the college years.  It's made more profound because we're away from home for the first time.  That closeness cannot quite be duplicated in the so-called real world of work, parenting and routine daily responsibility. This, I believe, is one of the saddest aspects of growing up.  Fortunately we can capture it again in a diluted form, when we reunite to reflect on the good old days.