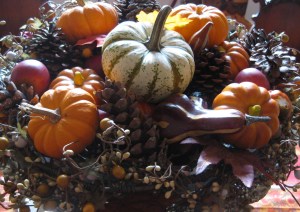 This Thanksgiving, as for several years past, we will not be traveling. We will miss the blessing of giving thanks with our parents, grandparents, uncles, aunts and cousins. But the two sides of the family lie in opposite directions. Neither Atlanta nor Rochester, New York is an easy destination during this holiday season. The only easy destination, of course, is one in the immediate neighborhood, and we are fortunate to be heading there. We are grateful to our good friends who, once again, have invited us to their Thanksgiving table with their extended family. Our daughters have been in school together since Kindergarten, and we've grown close over the years. We know the day will be easy and pleasant. Thanksgiving with our gracious neighbors reminds us that friends are family, too.
As an adult, I've probably spent more Thanksgivings with friends than with family, due to the difficulties and expense of travel. During graduate school, I never flew home for Thanksgiving, but I was lucky to have friends who included me in their celebrations. I've spent the holiday in various spots along the East Coast, from South Jersey to Boston. One year I fell into a great house-sitting gig in a lovely Princeton neighborhood, and I was able to extend Thanksgiving hospitality to a group of international friends. Together we represented Denmark, the Netherlands, Britain, Sri Lanka, Cyprus, and the U.S. (Sweden, also, if I count my husband. We had recently begun dating, and he's half Swedish. ) I cooked my first turkey and prepared our other family standards. It was a festive, happy day, and it felt good to be the host, instead of the guest, for a change.
Another Thanksgiving during our student days was less pleasant, although the details are vague. For some reason, it was just H and me, and we were preoccupied and dispirited with our research. H was spending long days in his lab at the E-Quad, and I think I was in limbo, awaiting much-delayed advisors' comments on my dissertation. Seems like I cooked in an unfamiliar kitchen. As students we each lived in a dizzying variety of low-cost rentals, and we were frequent house-sitters. The temporary homes blur together indistinctly now.
My only vivid memory of that day concerns the potatoes. H said he preferred boiled to mashed, a declaration that shocked and somehow insulted me. Boiled potatoes on Thanksgiving? Are you kidding me? But I decided to take the high road, and so I cooked only boiled potatoes. I quickly fell off that road, though. I was angry about the lack of mashed potatoes, angry at myself for overestimating my strength of character, and angry at H, the source of the problem. I made a couple of cutting comments. H retaliated, the dispute escalated. Our heated exchange ranks up there with the more recent Family Dog-Walking Fight (see earlier post). That night we had planned to see the annual tree-lighting in Palmer Square, but I don't remember if we went or not. (I have since learned how easy it is to reserve some boiled potatoes and mash the rest; I've done this nearly once a week now for the last fifteen years.)
I thought about my episode of Thanksgiving pettiness a few days ago during the youth Sunday school class I lead. We had been discussing the story of Jesus healing a group of lepers (Luke 17:11 – 19). Of the ten that are restored to health, only one returns to offer thanks. Apparently the others are so immediately caught up in their earlier lives that they miss the magnitude of the transforming event. No longer slaves to a disfiguring disease that made them grotesque social outcasts, yet they forget to thank their healer. I was like one of those ungrateful, unthinking former lepers that day, lost in the distractions of everyday life. I forgot about the blessings that surrounded me: the presence of H, a kind and loving person who had linked his life to mine, the luxury of higher education, a comfortable place to live, a delightful environment, and most of all, God's unwavering love. I let the absence of mashed potatoes poison the day.
Therefore, on this Thanksgiving, I will give thanks for life's tremendous blessings, for friends and family. I won't let a lack of mashed potatoes* blind me to God's grace.
*I can proclaim this with confidence, because our friends agree that mashed potatoes, not boiled, are the Thanksgiving standard!