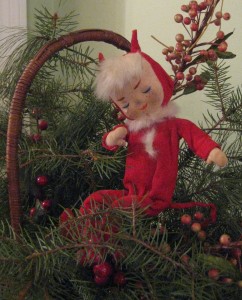 On my first Christmas, a neighbor gave me this stuffed doll wearing a devil costume. Her well-worn face attests to my love for her.  She appeared yearly with the Christmas ornaments.  Her outfit is similar to the somewhat later elves (as in The Elf on the Shelf) that came to join her.  A stuffed Rudolf was another of her companions.  She has a firmly stuffed, bendable body, painted face, white rabbit fur hair and collar, and she's sewn into a red velvet devil suit with a wired tail.
Why a devil for Christmas, I have always wondered?  She has a very sweet face.  Is she intended as an angel dressed as a devil?  As a commentary on good masquerading as evil?  A reference to our dual nature?  I often find it hard to choose from the word pairs  angelic devil or devilish angel to best describe my daughter.  Probably very little philosophical thought lies behind the toy.  But if anyone has an idea, or is familiar with such a doll from the early 1960s, please let me know.
And I wish you a devilishly good holiday!