Family and friends began giving my daughter Christmas picture books as her first birthday approached.  She has quite a collection now. Two of our favorites are The Donkey's Dream, by Barbara Helen Berger, and The Christmas Donkey, by Gillian McClure.   The subject of both books is the donkey that carried Mary and her unborn baby to Bethlehem.  The life of this ordinary donkey is powerfully transformed by his participation in the Christmas miracle.  The stories are lovely, as are the illustrations, which recall medieval illuminated manuscripts.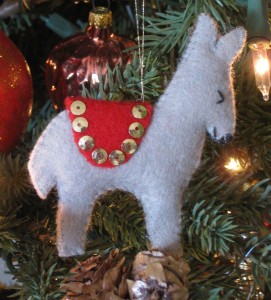 The two books brought special meaning to this sweet little gray donkey I made as a somewhat later addition to our felt ornaments.  He is unique–strangely, I only made one.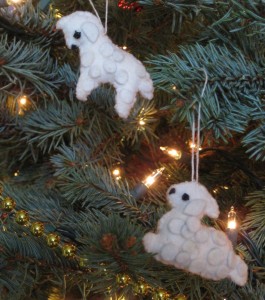 These lambs are reminders of the other animals that witnesssed the miraculous birth.