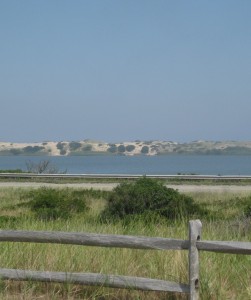 One of the nicest things about returning to the same place year after year is having the time to take note of the small details, those that change, and those that stay the same. My favorite early-morning activity is a breezy walk along Shore Road. It hugs a narrow strip of land, bordered on one side by the bay, and on the other, by marshy ponds, dunes, and the Atlantic Ocean.  After years of making this walk, I have committed most of its imagery to memory.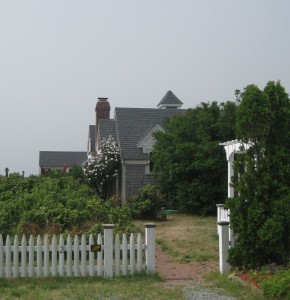 Quaint, lovingly maintained cottages, surrounded by lush flowers and foliage, abound on Shore Road. Scrubby, tenacious Cape Cod roses (Rosa rugosa), thrive in the sandy soil and salt air.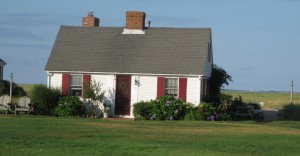 This iconic Cape Cod cottage is as forthright as a child's drawing, surrounded by hydrangeas  and set on a neat green lawn.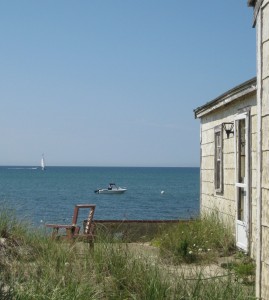 Not everything on Shore Road is postcard-perfect, I'm happy to say.  The picturesquely scruffy makes a showing, as well.  This small dilapidated motel property is perpetually for sale.  I photograph it every year, and its changes are minimal.  One or two decaying beach chairs always keep watch on the bay.  The above photo dates from August 2012.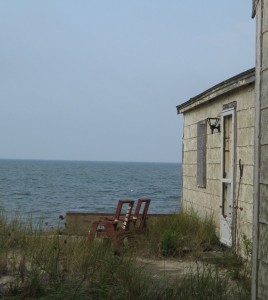 My photo of the same spot, from August 2010.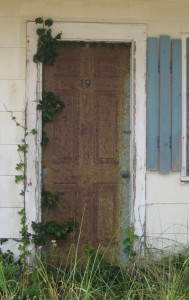 I document Door #19 of the old motel every year.  It varies only in the amount and configuration of its greenery.  Above is this year's photo.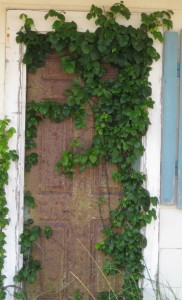 Last year's photo, with a greater abundance of vines.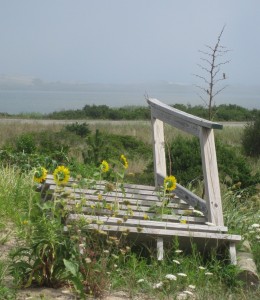 Sunflowers and Queen Anne's Lace stake their claim to this forgotten fragment of a wooden porch.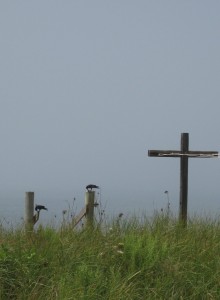 Two crows pose next to  a cross-like clothesline support.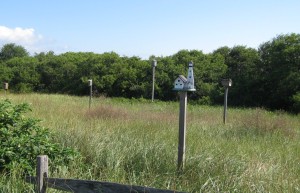 This vacant lot is home to a community of birdhouses, including a central caboose.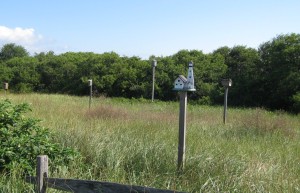 Last year's Birdland centerpiece was a lighthouse.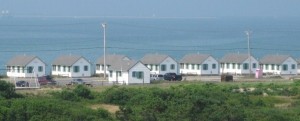 The neat white and green boxes of Days' Cottages, set in a line against the bay, date from 1931.  Each structure bears the name of a flower, such as Freesia, Dahlia and Petunia.  This long-lived
and virtually unchanged cottage colony has a loyal clientele.  It is a popular subject for local artists.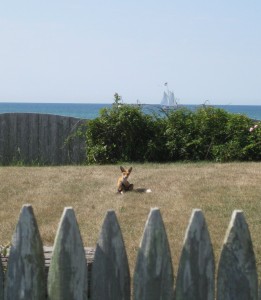 Last year I spotted this red fox enjoying the quiet of an enclosed yard.  He kept a keen eye on me as he scratched repeatedly, shook, and then trotted off unhurriedly toward the sand.  Of course he
reminded me of Kiko. On every walk along Shore Road, I somehow end up thinking about Kiko, and I wish he were walking with me.