It's an easy and logical progression from pumpkin to jack-o'-lantern.  Mother/baby Halloween parties across the country are crowded with crawling, crying, babbling, drooling, toddling jack-o'- lanterns.  Our first Halloween event was typical.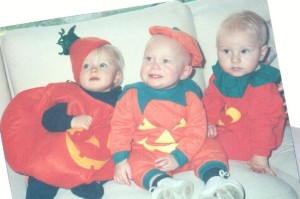 The three jack-o'-lanterns at our Halloween playgroup party are assembled here for a photo opp.  The middle pumpkin took offense, perhaps at the indignity of being sandwiched between two other pumpkins.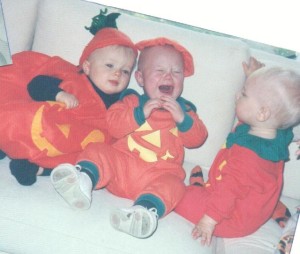 She continued to protest, loudly and forcefully.  The other two pumpkins seemed mildly interested, at best.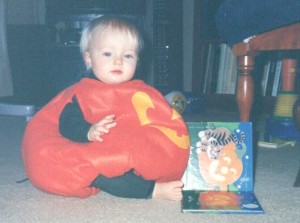 After the party, D relaxed at home by quietly ripping the flaps off a seasonal pop-up book.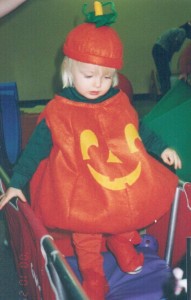 We reused D's jack-o'-lantern costume on her second Halloween.  As we had expected, our not-quite-two-year-old voiced no protest at having worn that same old thing last year. On her first Halloween, she was not yet walking, and the costume proved cumbersome for a crawler.  Here, at our Gymboree party, she enjoyed being a jaunty pumpkin on the move, walking, running, jumping, and bouncing.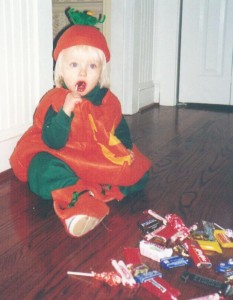 On D's first Halloween, we went with some of our playgroup friends to an afternoon celebration geared to young children at the local mall.  We couldn't justify trick-or-treating on behalf of a baby in a stroller.  But on year 2, we hit our neighborhood.  Up to this point, I had limited our daughter's exposure to candy.  She got a few sweet treats, but, as the baby books advised, not many.  That Halloween, however, the jig was up. The great wealth of the candy universe opened up to her like a treasure chest unearthed, and she rejoiced.  While Kit-Kats were initially her favorite chocolate, she quickly developed an eclectic, enthusiastic palette.  Here, she sits in a trance-like state savoring a lollipop, the contents of her trick-or-treat pumpkin spread around her in what was then the bareness of our kitchen.