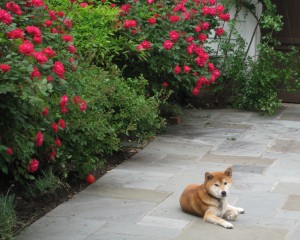 Kiko will see you now.
As I've mentioned before, there may be nothing Kiko likes more than a ride in the car, followed by a walk.  In cool weather he accompanies me on daily outings.  Before I do my grocery shopping, get my allergy shot, or whatever, we walk.  Afterwards, he waits contentedly in the car until I return, either keeping a look-out from the driver's seat, or snoozing in the back.  One day last week, we were cutting through the yard of the Sunrise, an assisted living facility, on our way to a nearby park.  As we rounded a curve on the path, we met a couple pushing a sleepy looking elderly woman  in a wheelchair.  Upon spotting Kiko, she woke up.  Oh, look!, she exclaimed.  What a beautiful dog!  I love dogs!  Her companions were visibly cheered, as well; suddenly an unpromising walk had taken a decidedly more satisfying  turn.
As I see it, Kiko regally assumes that everyone he encounters is there for the express purpose of an audience with him.  He is a beneficent monarch, one who graciously and generously bestows the gift of his royal presence.  Because he lacks any pressing matters of state, should no loyal subjects appear, he has the humility to lie down and await their certain arrival.  That day at the Sunrise, no wait was required; homage was instant.  After an initial greeting, Kiko sat calmly at the base of the wheelchair while the smiling Sunrise resident, her face twenty years younger now, petted and adored him.
You must bring him by again!, she urged.  We used to have a dog named Shadow who lived here, and I miss him so much.  Her son told me that Shadow was a big dog, a lab-pit bull mix.  He had the run of the Sunrise until he began jumping on the residents, prompting an employee to adopt him.  There was no longer a house dog, and Shadow had left an empty space.
That got me thinking.  Could Kiko help fill that space?   During high school and college, I had enjoyed visiting with nursing home residents on a weekly basis, but I hadn't been able to bring my dog.  On a cool sunny day the next week, when Kiko and I were going to the grocery, I decided to drop by the Sunrise with him.  His welcome was warm and immediate, from staff and residents alike.  An appreciative crowd gathered, with my little dog at its center.
I asked a staff member if dogs needed special training to visit; I had always assumed they did. My friend Celeste completed several obedience classes with her dog Beau to certify him as a nursing home therapy dog.  Kiko passed his puppy class, but just barely, due to his headstrong on-leash behavior.  We did not continue his formal education.  Surprisingly, no special training for visiting dogs was required at this facility. To return on a regular basis, a dog needed only proof of vaccinations.
Several residents and staff mentioned that Miss Anne sure would like to see the dog.  Did we have time for a room visit?
Of course!  A caregiver escorted us upstairs, via the elevator, a first for Kiko, one that he took in easy-going stride.
When we arrived at the room, its occupant yelled loudly and gruffly for us to enter.  The big voice belonged to a fragile little lady.  Miss Anne was lying perfectly, alarmingly inert on her bed, and she appeared to be in no mood for guests.  Until she saw Kiko, that is.  Suddenly she was up and attempting to pop out of bed  with such alacrity that I was afraid she would topple to the floor.  The caregiver jumped in, luckily, to help her safely maneuver to the side of the bed.  Kiko sat at her feet.  He even gazed up at her with an expression that could be described as loving.  Such a show of emotion is unusual for him.
After a while, Miss Anne asked me, Didn't I see you out back before?  It wasn't until then that I realized this was the same woman Kiko and I had met earlier outside with her son and daughter-in-law.  I'm sure she recognized Kiko, not me.   How fitting it was that, by chance, we found our way back to her, just as she had hoped we would.
Our family sometimes jokes that Kiko would be the world's worst guide dog.  There is no amount of obedience training, no army of diligent, expert dog whisperers, that could ready him for the job that many labs, golden retrievers and German shepherds seem born to do.  It's not in him, and it's not in his breed.  But, like all dogs given the opportunity, all those we welcome into our lives with love, Kiko has a gift for brightening his little corner of the world.  And now, with the relative maturity of his nearly six years, he has the unflappable, mellow temperament to bring special cheer to the Sunrise.  How lucky it is that we met Miss Anne and her family that day! Kiko will be back next week to check in with his new friends.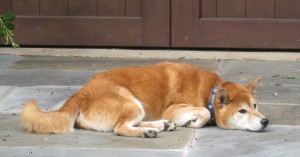 Having put in his service hours, Kiko rests.