Thank you to those who are fighting, or have fought, our country's battles for freedom and righteousness.  Words are inadequate, your sacrifices immeasurable.  On this Veterans' Day and every day, you have our deep gratitude. 
My father outside the Casserne in Regensburg, ca. 1947.  Daddy served in the U.S. occupational forces following World War II.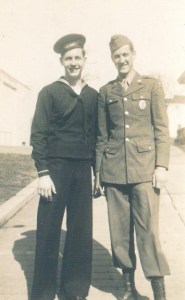 My Uncle Bill, on the right, ca. 1945.  My mother's brother served as a frogman in the Philippines during World War II.