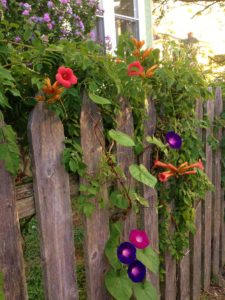 Back in June, when I last wrote a post for Wild Trumpet Vine, I anticipated a summer full of major changes.  Those expectations were fulfilled.     
A bare-bones summary of key events in the life of my family since then:
Our daughter graduated from high school.  We shopped for college gear.  We enjoyed our annual Cape Cod vacation.  The sale of my childhood home in Atlanta was completed.  We moved our daughter into her first-year residence hall at the University of Virginia.  (She had made her college decision, at long last, at the end of April.)  I flew to Atlanta to deal with the final culling and packing of forty-nine years worth of accumulation, and to prepare the house for the new owners.   A dear friend drove my mother to Virginia to spare her from witnessing those last frenetic stages of the move.  At the end of that week, I walked through bare, empty rooms, turned the keys over to a new family, and flew back to Virginia.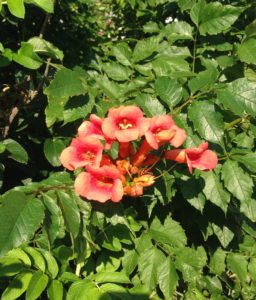 Three days later, the huge Atlas moving van arrived at my mother's new house, conveniently located next door to ours.  Unpacking has been a slow process, hampered and overshadowed by the cloud of my mother's ongoing back pain and the rounds of doctor visits it requires.  She'd been in worsening pain in the weeks leading up to her departure from Atlanta.  Now we know the cause, but treatment is challenging.  Mama, who has been for most of her life a whirling dervish of industrious creativity, is now largely confined to sofa-sitting.   
If this account sounds dry and devoid of emotion, it's because I've had little time for reflection.  I've been packing my thoughts away, much as I packed up the Atlanta house.   Like the boxes still stored in my mother's basement and garage, I'll get to them one day before long and sort them out.  Until then, I'll ease back into Wild Trumpet Vine.  I'm not yet up to the task of writing about the big things, so I'll focus on little ones.  I foresee quietly scintillating commentaries on the colors of the season, the many charms of my silent, sleeping dog, that sort of thing.  Whether they're read by others or not, I will write for my own mental health.  I hope a few of you will stick with me as WTV awakens from dormancy.