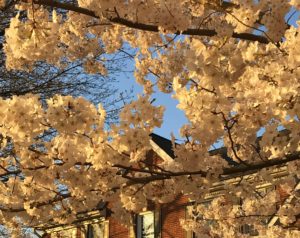 It is May, the cherry trees are in blossom, but it is cold in the orchard; there is a morning frost. 
–Anton Chekhov, The Cherry Orchard
This sentence referring to the setting for Act I of The Cherry Orchard has been snagged in my memory since I read the play during my senior year of high school.  A blandly innocuous description, it shouldn't have been particularly noteworthy.  But we were reading Chekhov toward the end of the school year, when the Atlanta heat and humidity were especially intense.  The school lacked air conditioning, and the class was in the late afternoon.  In that stuffy literature classroom, the idea of a May frost sounded impossibly exotic and refreshingly foreign.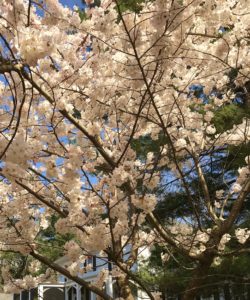 Here in Northern Virginia, it's not quite May yet.  The cherry trees are in beautiful bloom, but the weather continues to feel wintry, prompting me to dig out my ragged, heavily taped copy of Norton's Anthology of World Masterpieces.  As I re-read The Cherry Orchard,  I found myself back in that hot third floor room at Grady High.  Over the roar of the oscillating fan, our teacher is asking my friend Tedd, seated in the desk in front of mine, which Chekhov play he'd chosen to read.  The name of the play, somehow, slips Tedd's mind for the moment, and we all sit in uncomfortable silence.  Our teacher rolls his eyes and prepares a sarcastic zinger.  I know Tedd chose The Seagull.  "The Seagull," I whisper to the back of his head.  "The Seagull," Tedd replies, just before Mr. Moate can comment.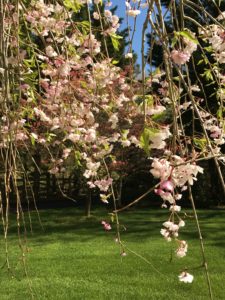 Memory is capricious and contrary.  My recall of necessary day-to-day details of life management (where did I put my mother's tax file, did I actually pay that bill, what is that password?) is often hazy.  When called upon, my seventeen-year old friend couldn't recollect the play he'd read the night before.  I hadn't read it, but I remembered then that he did.  And thirty-nine years later I still recall that largely irrelevant fact.  To this day, I haven't read The Seagull.  But I know at least one person who has.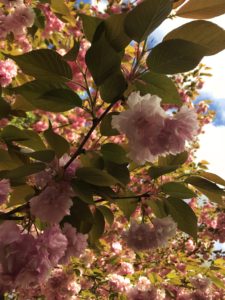 As for The Cherry Orchard, it spoke to me.  That year, in Mr. Moate's class, I gained a valuable bit of wisdom about great literature:  it endures because it offers a powerful expression of enduring truth.  As a high school senior, I was impressed by the surprising relevance of this nineteenth-century Russian play.  The self-absorbed characters, each engaged in his or her own, if frequently interrupted soliloquy, occasionally approach but rarely connect with each other.  I recognized this behavior.  In a margin, next to highlighted passages, I'd written: Yes!  This is what we do!  When we wander too long in the isolated wilderness of our own minds, we let the people and places we profess to love slip through our hands.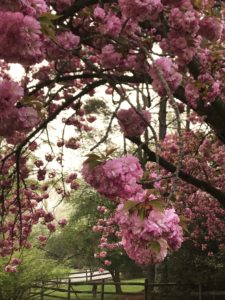 It's been many years since my first reading of The Cherry Orchard.  I still play the role of daughter, but now as a middle-aged wife and mother, living in an exotic foreign land of the future.  I've seen frost on cherry blossoms.  And I appreciate the sad, true absurdity of the story all the more.  Chekhov's characters and their perpetual inner struggles still resonate.  And if they were to find themselves here in this icy Northern Virginia spring, bundled in their traveling clothes, they could join our dog-walking group and feel right at home.