In the midst of spring's big chill, which threatened to stick around interminably, it seemed as though summer would never come.  What was it like to leave the house comfortably without sweater, jacket, scarf and gloves?  To sit on our screened porch without benefit of a heavy wool throw, looking like a shipboard invalid in an old movie?  I couldn't imagine.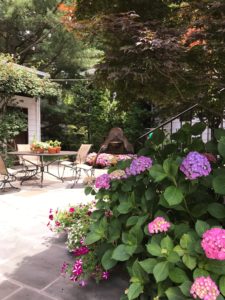 Now, on this first official day of the new season, it seems like summer's been here for quite a while.  Intense heat and monsoon-like rains bid a sudden good riddance to the lengthy cold spell.  And having brought our daughter home in May after her first year at the University of Virginia, we're enjoying the illusion of a longer summer.  This is a much-appreciated luxury.  Last summer was for our family one of the shortest, with D's high school graduation in June and the start of the college semester in August.  Considering my mother's relocation to Virginia, it was also one of the busiest and most stressful in my recollection.  How pleasant it is to know that this summer won't require me to finalize the packing up of my childhood home.  My calendar is blissfully free of travel plans.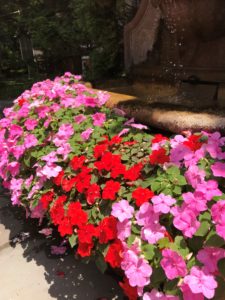 Memories of the recent deep freeze still vivid, once the weather began to warm up, I went into gardening overdrive.  I wanted our daughter, upon her return, to be impressed by the beauty of her home environment.  She'd been immersed in the spring glory of the historic grounds of UVA, so the bar was high.  Nearly every sunny day meant a trip to the garden center for more containers, more plants, more soil.  After the frigid cold of spring, the colors of summer appeared even more spectacular.  Our fountain, newly emerged from its heavy plastic winter wrapping, looked bare and dismal.  (Every December that fountain is the bane of my husband's existence as he drains and wraps it to weather the cold.  He did not want a "water feature" when we reworked our back yard ten years ago, but my daughter and I persuaded him.)  But with pots of bright impatiens clustered around the fountain, it reminds me of those in Charleston courtyards glimpsed through wrought-iron gates.  Even H says it looks nice.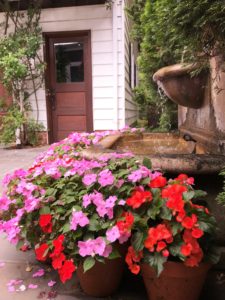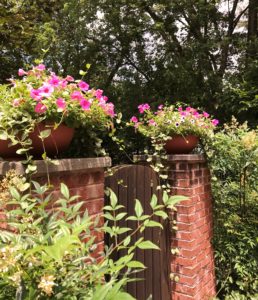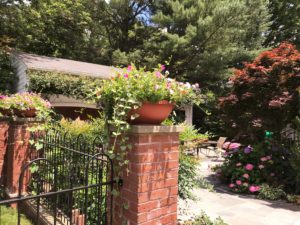 I've experimented over the years, but found that petunias and trailing vinca vines are the best choices to fill the bowl-like containers atop the brick piers along the fence line.  They flourish in extreme heat and sun.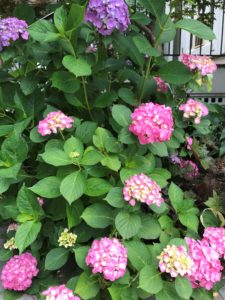 Our hydrangeas are blooming this year in amazing abundance and variety of color.  Perhaps it was the heavy rains of late spring that encouraged such luxuriant growth.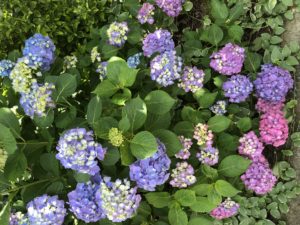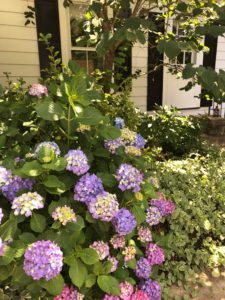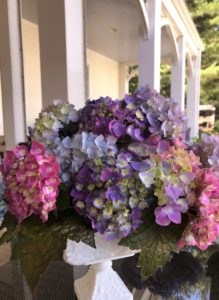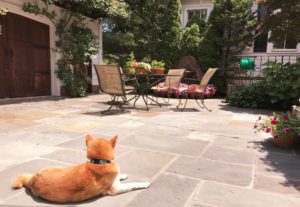 Kiko's favorite summer activity is baking himself in the hot sun on the flagstone patio.  He lies panting alarmingly for extended periods.  When it appears that he may indeed expire with his next gasping breath, he struggles to his feet and trudges to a patch of shade below the hydrangeas.  Before long he's ready to bake again.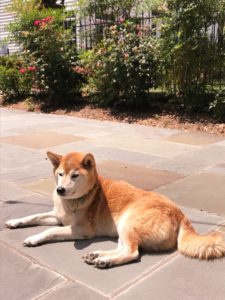 Whatever your summer pleasures, may you be able to follow Kiko's example:  seize the opportunity and enjoy!