We've been treated to several weeks of beautiful Fall Bonus Time this year in Northern Virginia. The temperatures have been mild, the sunshine plentiful, and nature's colors absolutely brilliant. Today's persistent rain, the remnants of Hurricane Nicole, is gradually, steadily, washing away the season's brightest jewels. Therefore, I offer a look back on this glorious Autumn as we will remember her, in her dazzling, long-lived prime.
Leaves of burnished copper and gold gleamed in the morning sun in our neighborhood woods,
and in my mother's front yard. On her porch steps, the summer's red impatiens rubbed shoulders with later blooming yellow chrysanthemums.
The small sassafrass tree in our front yard put on an exuberant, outsized show.
The season's glowing colors were often set, to dramatic effect, against a flawless blue sky.
But they were equally spectacular with the addition of a few strategically placed white clouds.
And then there were the exquisite, luminous mornings when an early fog was in a constant state of flux, rising here, settling there. These were days that vividly evoked Keats' ode To Autumn, that "season of mists and mellow fruitfulness." While the poet's words hung in the misty air, the painted images of John Constable's ever-shifting, cloud-filled skies danced in my head.
A bounty of fall berries will be with us, still, for a while. Like the red, bubble-like jewels of honeysuckle,
and the Nandina clusters that mingle with red double knock-out roses along our fence row.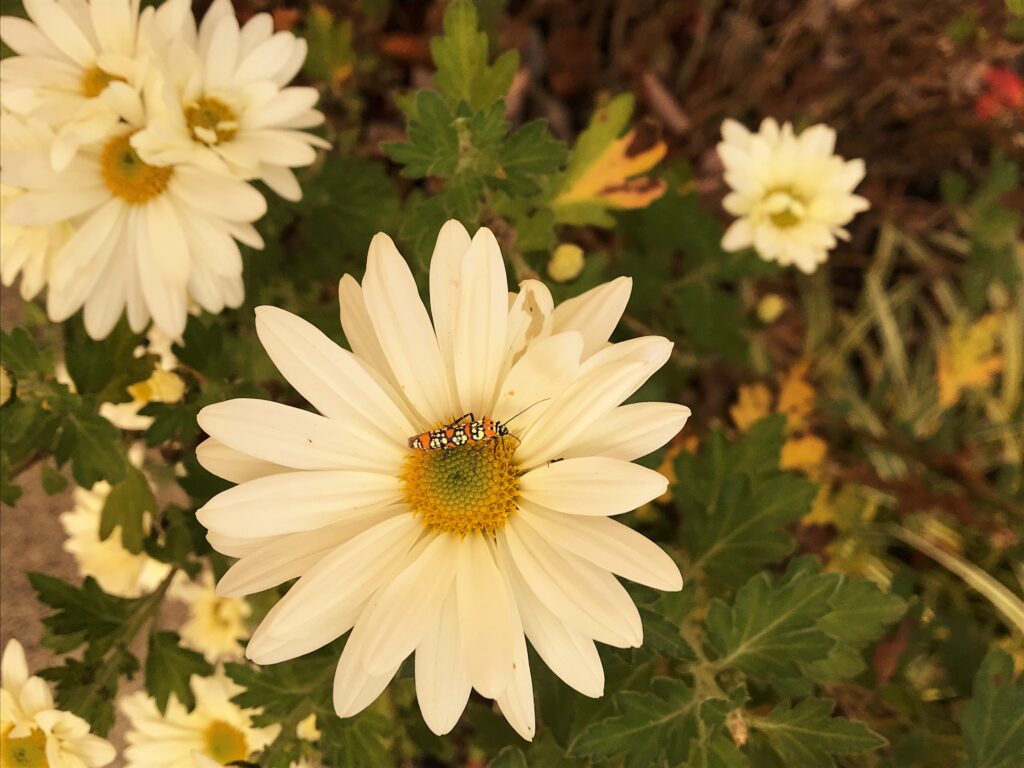 These hearty daisies, always late-blooming, took their good sweet time this year. Although their foliage has been towering high for months, they waited until late October to bloom. They play host to a variety of pollinators, like the insect above, which appears to be a beetle dressed in Halloween attire. It does, indeed, wear a sort of costume, as it's really a moth, the ailanthus webworm. In flight, a pair of dark gray wings emerges from below the outer ones of orange, white and black. With every closer look, nature's fantastic eccentricities become more evident.
Carpenter bees often embrace the daisy centers for long minutes at a time, as though in a love-sick stupor.
As leaves fall, dark, bare branches emerge, and the earth gains a carpet of warm bronze, copper and gold.
As I was looking at these photos, I realized that one familiar element is absent: my autumn-colored dog, who left us in July. The view above, along the home stretch on a morning walk, always reminds me of my dear, odd Kiko, a near-constant companion for the past nearly fifteen years. Most days, I don't actively miss him. I certainly don't miss him in the weakened, anxious state of his final weeks. But then, in my mind's eye, I get a flash of my young, spirited dog. I see him bounding up the driveway, or on high alert in the pine straw, watching a squirrel, pointed ears straight up. I'm reminded of his first fall, when he was our brand-new puppy, and my parents had come up from Atlanta to visit. I see my father, his arms around our daughter. She's holding Kiko. He's so little. His fur is dark velvety red, his belly still hairless and mottled. Daddy and D look completely, perfectly happy. Kiko looks, well, a little crazy. And he was.
Grief is tenacious and sly. It creeps up and catches us unprepared. But, as I find myself smiling through sudden tears, I understand that it's mixed with joy. In every image from the past, our loved ones are alive again in the present. In every cherished memory, they're with us.
On this dreary day, I can still glimpse fall's flying colors through the rain. Likewise, I can envision our puppy in my daughter's arms, and I can hear my father's laughter. Fall is bittersweet, just like memory.