Each year at Christmas, my husband presses on in his family's tradition of extreme gift wrapping. He grew up in a family of resolutely creative wrappers, in which every gift receives special holiday treatment, from the lowliest pair of socks to the largest, most cumbersome, difficult-to-wrap object. Major appliances have been gift-wrapped by his family. They welcome, even seek out, challenges in wrapping. They invest considerable time and energy toward disguising the gift. Tiny items are encased in enormous boxes, and objects with a characteristic, recognizable shape are concealed in containers of an utterly different form. The wrapping paper is exuberant in color and pattern.
My side of the family has a fundamentally different approach to wrapping gifts. My mother has a designer's eye, and her emphasis has always been on décor. A connoisseur of ribbon, she chooses gift wrap to accent the color scheme of the room. Gifts under our family tree were beautifully packaged and adorned, but not as plentiful as in H's home. If an item might be of use during the holiday season, it was likely to be presented early, unwrapped, as needed. There was no concern for disguising gifts or playing wrapping games. A book was wrapped as a book, not a refrigerator. And little things, those that were needed and appreciated but not overly special, simply appeared, unwrapped.
The differences in our two family's wrapping philosophies recall our approaches to the recognition of birthdays and other special events. H's family remains determined to celebrate all occasions, and inventive wrapping is a big part of the celebration. My parents continue to give thoughtful and lovely gifts. But they regard the birthdays of adults, as I've said before, as events best mentioned quietly, if at all. I grew up hearing the admonition: "Don't get beside yourself." In the eyes of my parents, showing too much enthusiasm is bit unseemly; it's something to be avoided, or at least denied. H's family, on the other hand, is happy to get beside themselves. During birthdays and on Christmas, they revel in it.
Now that I'm familiar with both approaches, I can appreciate the merits, and the drawbacks, of each.
This year my husband's extreme wrapping scored especially high marks. He enclosed three gifts for our daughter in tubes used for forming concrete, 48 inches long and up to 16 inches in diameter. An inexpensive wrapping solution with a big wow factor. None of the objects were vaguely cylindrical in shape, of course. The first tube appeared by the tree early in the morning, three days before Christmas. On the following two days, another, successively larger, tube appeared.
Our daughter was merrily intrigued, and she responded in kind. She searched in the basement until she found a suitably unusual container for one last gift for her dad: a tall plastic laundry hamper. She took it to her room and, using two kinds of paper, an abundance of tape, and an uncharacteristically substantial degree of patience, performed a wrapping coup. The shape may perhaps best be described as an oval trapezoidal prism.
On Christmas morning, the tubes and the hamper were the final gifts unwrapped. Both H and D were exultant as they pulled off paper and worked their way to the gifts inside the strange packages. The excitement was catching. Not even my parents, who are here with us this Christmas as usual, were immune. I think I can speak for both sides of the family now when I say that once in a while, getting beside yourself is recommended.
The first two mystery tubes appear.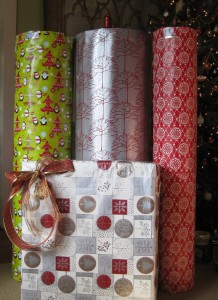 The three tubes, with one tiny tube on top.  My shoe-storage package is in front.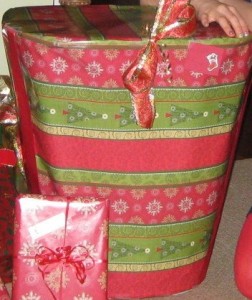 The oval trapezoidal prism.