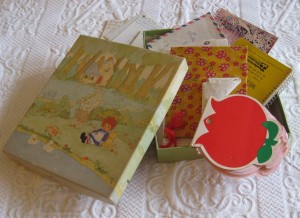 Near the top of my miscellaneous middle school mementos was a stationery box containing several small notebooks I used as journals. My account of seventh grade begins on a cheap note pad shaped like a tulip and continues on others, equally makeshift. These messy little chronicles carried me back across the years, with jottings concerning such experiences and events as these: 
The chaos that accompanied every class change in that immense and heavily populated school. Unaccustomed to negotiating crowds, I was surprised at those who delighted in barreling their way through bullishly. By mid-winter I had come to enjoy the challenge of the crowded halls. It was valuable life training, useful in airports and on the streets of New York City.
 Locker drama. Considerable anxiety surrounded the necessity of learning my combination and opening the lock successfully in the midst of class-change turmoil. One day as I was focused on the lock, an unknown boy took hold of my long hair and kept walking. Another time, my locker was broken into and my money, all 45 cents of it, was stolen.
The opportunity to make friends from a broader, more diverse pool.  Many pages contained lists of my new friends and the wide spectrum of elementary schools they represented.
The obscenity-laced scuffles that broke out every day among a group of boys during art class. Thankfully, my table-mates, all girls, were a peaceful, non-confrontational group. As pandemonium exploded around us, we carried on resolutely with our drawing and painting. We quickly learned that some problems can be avoided by simply pretending they do not exist. The teacher, who could neither ignore the commotion nor deal with it, was often in tears at the end of class.
Hobo Day, which we celebrated in mid-November.  This astonishes me.  I do not remember Hobo Day, although I participated.  As a fund-raiser, the PTA sold "hobo permits"  (at 25 cents each), that allowed students to come to school dressed as hobos. Those growing up in the 60s and 70s may remember when Hobo was a popular Halloween costume choice; the term as yet had no ironic or politically incorrect implication.
The powerful presence of our assistant principal, Mr. Sharpe, who effectively blocked the gateway to total anarchy. On my mother's first visit to the school, she walked in as he was breaking up a violent confrontation between two sizable female students. One girl refused absolutely to back down. She continued to struggle ferociously to get at her opponent, requiring the assistant principal, at last, to sit on her. Somehow he managed to do this with dignity and no sense of impropriety. I befriended Mr. Sharpe early in the fall when I discovered $2 in a stairwell corner. My conscience demanded that I take it to Lost & Found, evidently another of his domains (he managed to be everywhere at once). After two weeks, he said, if the money remained unclaimed, it would be mine. Sure enough, the rightful owner never appeared, and I was $2 richer. Mr. Sharpe was my champion ever after.  In the spring, I accidentally threw my retainer away inside my lunch bag. Mr. Sharpe immediately set about searching for it in the cafeteria trash. When that proved unsuccessful, he got in the dumpster to continue the search. He didn't find it, but by then it mattered far less. His selflessness had transformed bad into good.
First crushes. My friends and I created complicated code languages to discuss and pass notes about the boys we liked. Seems like the note writing occupied far more time than actual class work. My friend Katie managed to infuse her notes (which she usually folded into flat paper footballs) with great absurdist humor. To this day, I find them hilarious. We're still good friends, and she's still funny. Two or more of us tended to choose the same boy to focus on. Looking back, this first struck me as a silly approach, but I see now that it served its purpose. We weren't yet actually interested in having a boyfriend. We needed first to prepare ourselves for the idea of a boyfriend. Because we chose boys who were unlikely to fall for any of us, solidarity was maximized and friendship-threatening rivalries avoided.
The sea of flamboyantly-hued polyester that engulfed the teachers and staff. Our principal, in tinted aviator glasses, favored earth-toned leisure suits. Mr. Sharpe opted for the more traditionally tailored double knit suit. For some reason, the paunchiest of the coaches gravitated toward brightly patterned, body-hugging synthetic shirts. The sensible and impermeable polyester pants suit prevailed among the female teachers. Patent-leather loafers, in white and rainbow colors, were popular with both men and women. Jeans, always bell-bottoms, were worn by students, but never by adults.
Bus drama. Our bus number, P-50, is a fixture in my memory. A frequent afternoon announcement was this: All students riding Bus P-50 must report to the cafeteria immediately! P-50 was exceptionally crowded, the aisle filled with standing kids, and notorious for bad behavior. My friends and I weren't generally involved. We kept to the front of the bus, a zone of relative order. In the back, mayhem ruled. Fighting, yelling, smoking, and profanity-spewing were among the typical pastimes. Various items, including left-over lunch foods and specially prepared "flour bombs" were routinely launched from the windows onto passing cars. On several occasions, our bus driver, unable to enforce discipline or to bear the pain any longer, simply stopped along the route and made us all get out and walk. This usually happened not far from my house, and after the uproar of the ride, the quiet was welcome.
I find it reassuring that my journals confirm the accuracy of many middle school memories. I really do know what it's like to be thirteen. This should qualify me as a wise and valuable advisor to the young teens of today, right? Even though when I was thirteen, computers were the size of a house, and there was no such thing as the Internet, a cell phone, texting, Facebook or Twitter?  I'm hoping my daughter thinks so.
Do you have middle school memories that beg to be shared?
Tell me about your odd ones, your funny ones, your unforgettable ones!