Even though I'm glad to feel the September chill in the air, I find myself looking back fondly on August, to our time at the Cape.  Perhaps because the school year has begun, bringing its steady stream of routine duties and a deluge of paperwork, the echoes of those last lazy days of summer are especially sweet right now.
The appeal of our quiet little cottage complex in Truro is heightened by its location next door to bustling Provincetown, shoehorned into the narrow tip of the outer Cape.  It's a tiny town with an expansive, generous spirit, urban flair, and an edgy sense of humor.  Eccentrics of all stripes, as well as tourists from the heartland, find a warm welcome in P-Town, where ecumenical diversity flourishes.
The central section of Commercial Street, the narrow main artery, is one long party during beach season, when it's crowded with pedestrians and vehicles.  In Provincetown, the architecture is historic and charming, the street musicians are inventive and mostly talented, the food is excellent, offerings of art, musical theatre and comedy are vast and easily accessible, the drag queens are witty, the world's most expressive T-shirts are available, and bay breezes blow.  It truly has something for everyone.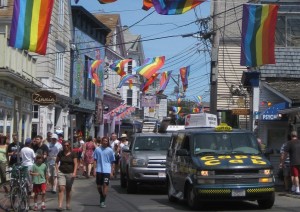 Above, the busy heart of Commercial Street, catching the ever-present Cape Cab in transit.  Its sister vehicles include two wildly painted mini-limos known as the Funk Buses, which offer on-the-road karaoke.  Provincetown is no place for a sensible Lincoln Town Car.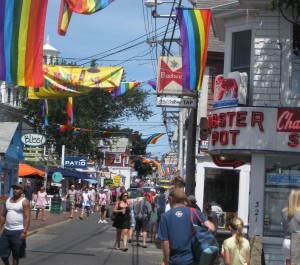 Another view of Commercial Street, above. The umbrella-shaded outdoor dining area at Patio is an ideal spot for people and dog watching.   Provincetown is an enthusiastically pet-friendly town, despite the notable absence of any dogs in this photo.  I counted thirty dogs in one hour last year during dinner at Patio.  Most were on leashes, others were pushed in strollers or carried in handbags.  There was even one puppy in some sort of dog-Snugli.  Because our place in Truro doesn't allow pets, we can't bring Kiko, but we almost always see at least one Shiba Inu.   My hope is that someday, somehow, he'll be able to accompany us.  I like to think he has an artistic sensibility and would feel completely at home here.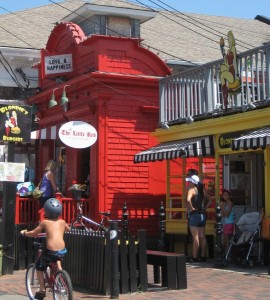 Provincetown, fiercely protective of its unique quirkiness, is resistant to national chains. You won't find a McDonald's, a Rite Aid, or a CVS.  No Starbucks, no T.G.I. Friday's, no Applebee's.  No Burger King, although, there is, appropriately, a Burger Queen. The Little Red, above, is a friendly, well-stocked convenience store, housed in what appears to be a brightly painted Victorian playhouse.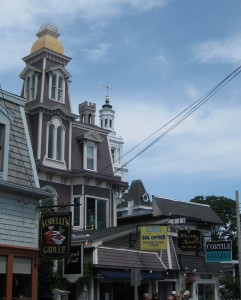 Like many buildings in densely populated Provincetown, this gray turreted house, which could easily feature in an Addams Family film,  has commercial space below and living space above.  The towers of the Pilgrim Monument and the Unitarian Church peek out from behind.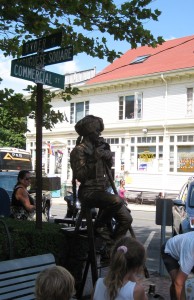 A living statue often occupies a prime spot in front of the Town Hall. Above, during the summer of 2010, Cady Vishniac posed regularly as a bronze figure of a Depression-era hobo. Richard Mason, inspired by Provincetown's World War I Memorial statue nearby, occupied the corner in 2011, in the guise of a WWI soldier.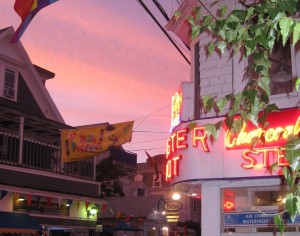 Above, the sun sets on the Lobster Pot and the Governor Bradford bar and restaurant across the street.  I've tasted nothing better, ever, I believe, than the pan-roasted lobster at the Lobster Pot.  If you think lobster is lobster, and cannot be improved upon, this will change your mind.  The Pot is always packed, but it's worth the wait.  Get your lobster buzzer and wander through the nearby shops.
The yellow banner for Mary Poppers prompts me to note that this year, at last, we had a John Waters sighting.  The director and author makes his summer residence in P-Town.   I've never seen him riding his bike down Commercial Street, as many have, but we spotted him, unmistakable in his pencil-thin moustache, walking with friends on Bradford Street.  They were heading toward the Provincetown Theatre to see the popular Mary Poppins parody.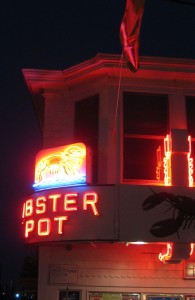 The haunting neon glow of The Lobster Pot, a beacon for hungry tourists and locals.

Look for another P-Town post to follow soon: Serenity on Commercial Street.