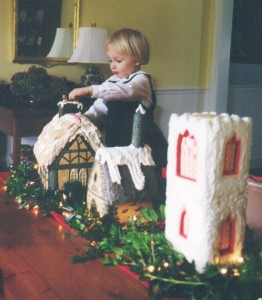 As a toddler, our daughter's favorite playthings were the various trappings of Christmas.  She had little use for actual toys if holiday decorations were at hand.  This led to occasional minor heartbreaks when fragile tidbits fell to pieces in her insistent little fingers, but generally she knew how to handle with care.
The first year that I unpacked the gingerbread village in Virginia, D was at my side, bubbling with excitement.  She greeted each structure with much admiration, and I was duly flattered.  She helped me arrange the buildings, some in the center of the dining room table, others atop the hutch.  D could spend hours sitting on the table, setting up various inhabitants among the houses and churches, talking to herself, happily lost in her imagination.  The village might host our clothespin nativity figures one day.  The felt Christmas mice, or a crowd of Polly Pocket dolls might have the run of the place the next day.  The possibilities were nearly endless, just like a child's busy, growing mind.
D proved to have a knack for creating attractive baked goods.  At age three, she was a surprisingly skilled sugar cookie baker.  She turned out to be a natural with a pastry bag; her royal icing decorations were top-knotch.   Before long, she was asking to help me make a gingerbread house.  I realized that she would, indeed, be a capable assistant.
Our first mother-daughter collaboration was a modest cottage.  I gave my daughter fairly free reign in terms of decoration, so it was a colorful dream of candy and icing.  The next year, we decided to go big.  We made an elaborate, turreted gingerbread castle.  It was an appropriately exuberant candy palace for a girl who chose to wear a different princess costume every day.
Because I couldn't face the daunting task of properly sealing, packing and storing the gingerbread village, it became a permanent display in our playroom. Our old house, as I've said before, is lacking in closets, and our basement used to flood with every hard rain. The absence of the perfect spot to store the village was a good excuse to simply keep it out all year long. D was glad to have it as a constant companion. Every new holiday brought another chance to redecorate.  Our Christmas village had become a town for all seasons.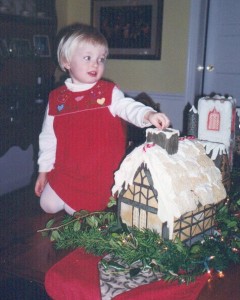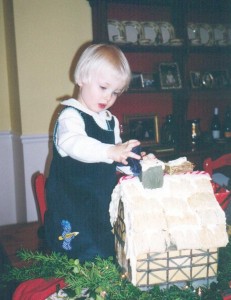 D, nearly three, arranges the clothespin Mary and baby Jesus
on the roof of the thatched cottage.