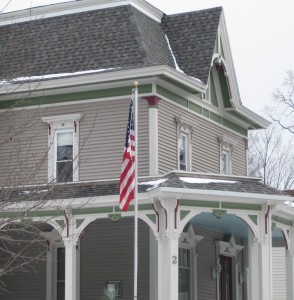 If you ever find yourself in western New York, perhaps after fulfilling a quest for authentic maple syrup at Cartwright's Maple Tree Inn, I would recommend another stop in the nearby historic village of Angelica.  (While Cartwright's  has an Angelica address, it is several miles outside the tiny town.)
Postcard-pretty Angelica was named for Angelica Shuyler Church (1756- 1814), scion of two eminent New York families, the Schuylers and the Rensselaers.  Angelica's father was a general in the Continental Army, later a member of the Continental Congress and a U.S. senator.  Her brother-in-law was Alexander Hamilton. After eloping with the English-born merchant John Barker Church, Angelica lived most of her life in Europe.  Intelligent, well-educated, charming and beautiful, she mixed in elite circles.  During her years in Paris, her confidants included Benjamin Franklin, Thomas Jefferson (with whom she kept up a lifelong correspondence), and the Marquis de Lafayette. Her London acquaintances were equally renowned.  Angelica and her family returned to America for a visit to attend the inauguration of George Washington.
When her family purchased a 100,000-acre tract of land in the wilds of western New York, Angelica's son Philip scouted the area for a suitable location to build a town.  He chose a site along the Genesee River.  In 1802, he named the new settlement after his mother.  Thanks to Philip and his surveyor, the town has a pleasing geometric plan, its main street radiating out from a central circular park.
Considering the name of the town and that of its founding family, it's appropriate that Angelica is notable for the many lovely old churches that ring the green and dot Main Street.  Nearly all the town's buildings date from the 19th century and have been little changed.  Modernism sidestepped Angelica.  Large, still beautiful homes, plus a library, academy, court house and post office, are interspersed among the churches and shops.  We typically visit in February, when the view from the snow-covered central park recalls a tabletop Christmas display of quaint ceramic buildings.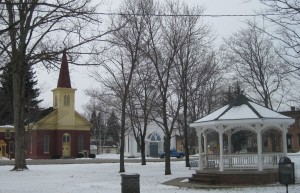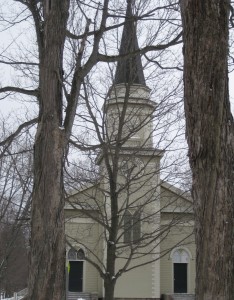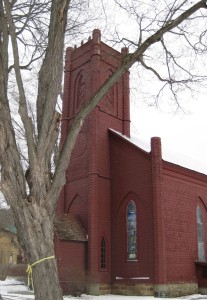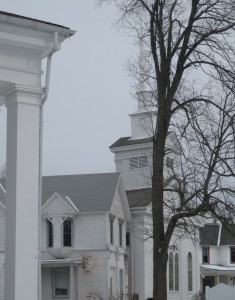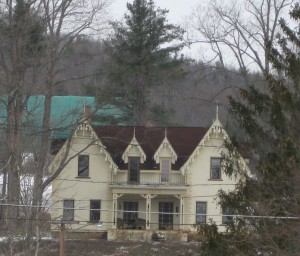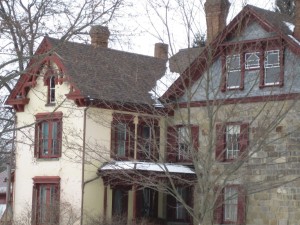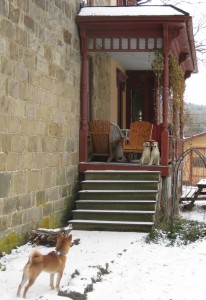 In 1797, Angelica and her husband returned to live permanently in the U.S.  Their grand home, known as Villa Belvidere, is located on the outskirts of town.  Begun in 1806, its design is attributed to Benjamin Latrobe, architect of the U.S. capitol.  The house remains in private hands.