I try not to use my blog to rant about life's trivial annoyances. But today I'll risk sounding like a pouty child. This morning, a series of minor nuisances really ticked me off.
It began around 6:20, when I applied myself, with much concentration, to the vexing mystery of the moment—how to get the little rubber ring to stay put on the lid of my daughter's new thermos. I persisted, but had no success. The bell of the toaster oven dinged. Because I had devoted too much pointless effort to the thermos, the mini-bagels I had been toasting for D's breakfast were burned beyond rehabilitation.
It was at this inopportune moment that my husband wandered blithely into the kitchen. He remarked, in all innocence, that he couldn't understand why D, who is in the process of choosing the classes she will take next year in high school (high school!), needs to continue studying English. She can read. She's a good writer. What more does she need to know about English?
That comment, following so quickly on the heels of my thermos and bagel difficulties, was the last straw. My poor fragile camel's back cracked sharply in half. Some say, I responded, through slightly clenched teeth, that there is value in literature. While reading good books is unlikely to lead to a well-paid career . . .no . . . it's likely to ensure the absence of a well-paid career, it offers some help in coping with life's disappointments. I stopped there. I did not add this further petulant bitterness: that reading offers the possibility of occasionally eking out some small measure of joy in a world rife with uncooperative thermos rings, annoying toaster ovens and clueless husbands whose idea of enlightening reading is an online windsurfing forum. H wisely kept quiet until he left for work.
And then Kiko and I went out for our walk. Another lovely light snow had fallen. I expected that the walk would lighten my mood. But no. Paved surfaces were far more slippery than I had expected, and Kiko insisted on attempting a break-neck pace, determined to run, if not in the road, then as close to it as possible, where the cars were hurtling by us more aggressively than usual. The salt from the road frequently stung his paws, prompting him to limp flamboyantly, one foot in the air, yet without lessening his speed. I had to repeatedly kneel down to brush the snow from his paw pads. An icy, gusty wind whipped the snow into my eyes, and the blue glare of the sun on the white ground was blinding. My ears were wet and freezing under my scarf, while my hands were too hot in my mittens. I was reminded vividly of why I find skiing so unpleasant. Our morning outing was an ordeal to be suffered through.
On a happier note, it sure is good to be back home.  Alone, except for my silent dog, now sleeping peacefully in another room.
*********************************************************
H telephoned later, warning me about the icy roads and clearly trying to appease my irrational meanness.  I'm feeling better now.  As Gilda Radner's Roseanne Roseannadanna used to say:  Never mind.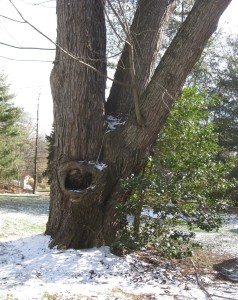 It was a beautiful morning to be annoyed.