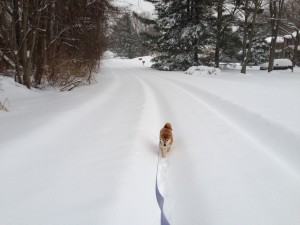 Today we have a snow day with real snow, and lots of it.  The schools here in northern Virginia used up all their snow days back in January.  Yet there's been very little actual snow.  Certainly we've had our fill of frigid temperatures and diverse forms of icy accumulation.  But as for the pretty fluffy white stuff, not so much.
Until this morning, when we woke up to over a foot of the real thing.  It's more snow than we've seen here in four years, when we were treated to back-to-back blizzards, pre- and post-Christmas, that paralyzed the area.  Last night's snow was enough to shut down all runways at Reagan National and Dulles Airports, enough for the government to call a State of Emergency, enough even for my husband's office to close.  This gave him the chance, at long last, to fire up his essentially unused snow blower, the one he bought in 2010, just after those last big storms.
The street was a smooth, untouched, snow-covered ribbon this morning when Kiko and I headed out for our walk.  We were grateful to be able to follow the parallel impressions left by a car sometime during the night.  In the tire tracks, the snow didn't flood up and over my boots, or envelop Kiko's entire body.  Where the snow was completely untouched, my little dog was forced to bound through it with a sort of swimming motion.  He seems to thrill at that first plunge, but his exhilaration quickly dissipates.  Following his exertions, he slept for hours on the playroom sofa.  All day long I've been tempted to join him.  Wouldn't it be nice if we all could be so lucky?
My daughter, of course, was delighted by the snow, and by yet another snow day.  As for Kiko and me, we're ready for spring.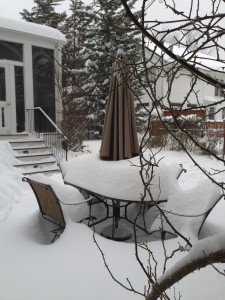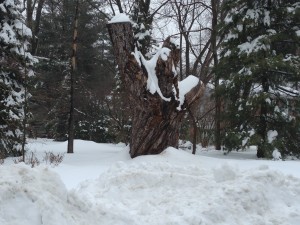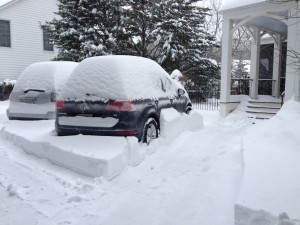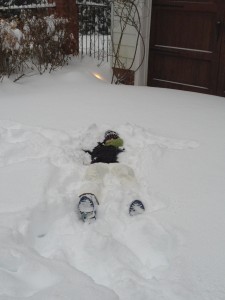 My daughter, at home in her element.