I can't be alone, among those in the snowbound sections of our country, in having recently felt lost in some permanent winter limbo.  Last Friday that sensation was particularly acute.  I was on the fifth day of a nasty cold that was keeping me exhausted, shivering, stuffy, head-achy and generally miserable.  Each day brought a new symptom.  That morning I welcomed the onset of a deep, bone-shaking, throat-searing cough.  I had hoped for a couple of hours extra sleep after H and D left for work and school.  Typically on dark, overcast mornings, I go upstairs to find Kiko curled up on the foot of my bed.  As soon as I get out, he jumps in.  But this morning he had been continually underfoot, pacing, staring expectantly, demanding to walk as soon as possible.  He was oblivious to the morning's gray hostility.  So by 7:30, under a leaden sky, my dog and I were picking our way across piles of dirty brown snow, a biting wind whipping at our ears.  He was scampering merrily.  I was trudging grumpily.
 This cold had hit me harder than most, and I was finding it difficult to power through.  Maybe the excessive chill of the winter had sapped my strength.  That Friday I was especially gloomy, knowing I wouldn't be able to spend the day bundled on the sofa, dozing and working through weird Tivo selections such as Hal Ashby movies from the 70s.  I had managed to do little else for four days, but my time was up.  We needed groceries and every known household paper product.  Prescriptions were awaiting pick-up.  It was the day for my allergy shots.  Kiko would need another walk.  And I should probably make dinner for a change.  Ugh.  I counted the hours until I could go back to bed.
But Saturday was indeed a new day.  And best of all, it felt like a new, much-anticipated season.  The sun was shining with a glorious intensity, the sky was blue, and the temperature was climbing into the 60s.  The robins were feasting. The snow was melting.  Suddenly, winter was on the run. For the first time in what seemed like years, it felt like spring.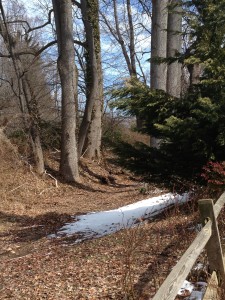 The melting snow added a sense of drama to our first spring-like day.  This was an early spring day akin to those described in The Secret Garden  and my favorite books of childhood poetry.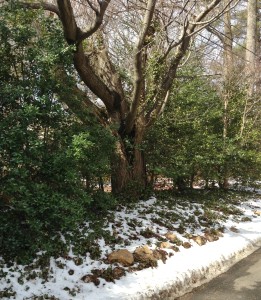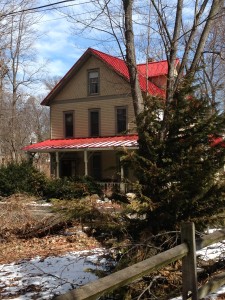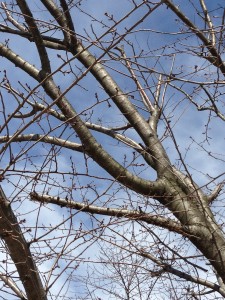 What do you know, there are tiny buds on the cherry trees!