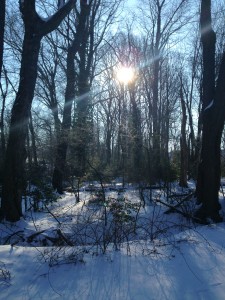 If you aren't homebound today by snow, ice or frigid temperatures, you may come across folks with messy gray smudges on their foreheads.  If you're planning to get smudged yourself, you know it's Ash Wednesday.  Our church's service was canceled due to extreme cold and expected snow showers on top of existing snow and ice.  So I won't be receiving the ashes tonight. 
But I'll be thinking about what it means.  For Christians, Ash Wednesday is a day for confronting our mortality and unworthiness.  It's a time to thank God for loving us despite our unworthiness.  He could have left us in the ash pile, but instead, he invites us with Him to a realm of light and glory.  
********************************************************** 
For more in-depth thoughts on Ash Wednesday, see earlier posts from 2013 and 2012.