This month is notorious. Fortunately it's the shortest. Here in Northern Virginia, as in much of the country, February is all about the snow, or all about the cold, or the wind. Or some uncomfortable combination of the three.  I'm trying not to complain. I know it could be worse. I could live in Boston, Buffalo or Sioux Falls. But the frigid whiteness of this mid-Atlantic winter has lost its luster. It has become tiresome.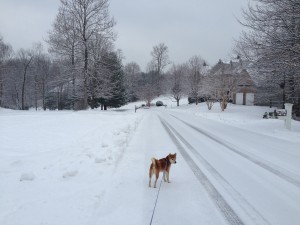 Here in our area, the last half of the month is the worst. The week before and after Presidents' Day tends to usher in our deepest snows and fiercest cold snaps.   The best-laid plans crumble. Why do we continue to make plans in February?
This year a mini-blizzard roared in on the evening of Saturday the 14th at 6:30, a dirty little trick on diligent Valentine date-nighters. Within minutes, all was white, the air and ground alike. Snow piled up and swirled wildly as the wind howled and the temperature dropped to zero.  Typically, in the face of such weather, I would happily retreat to the warmth of the sofa with a movie. But my husband was out of town (that's another story), my daughter had two parties to attend, and I had said yes to a neighborhood gathering. All activities, unfortunately, required driving.  My focus for the evening shifted from enjoyment to getting out and back without injury or incident. When I picked up my daughter and a friend from their final party, the snow-coated roads glittered with chunks of ice resembling broken glass. When the tires lost traction at an especially slick intersection and the anti-lock brakes kicked in to no avail, luckily we were the only car around.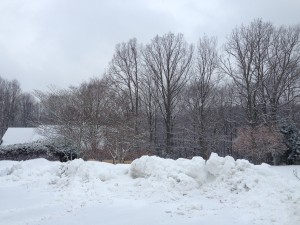 The following icy, windy Sunday morning, Kiko and I suffered through possibly the most miserable dog walk ever. (No matter how inhospitable the weather, my fastidious little dog requires three walks a day for his mental and physical health. See here.) I wondered if we should brave the roads for church.  A blinking light on the answer machine put that worry to rest: church was canceled, despite special preparations for a one-of-a-kind community children's service.
Monday, Presidents' Day, was a holiday and day off school. We managed to get in a dentist appointment for my daughter before more snow began falling steadily that afternoon. Storm Watch Accu-Weather-on-Your Side teams were breathless: this storm would be the Big One. No doubt there was not a gallon of milk or a loaf of bread to be had on any grocery shelf in the DC metro area.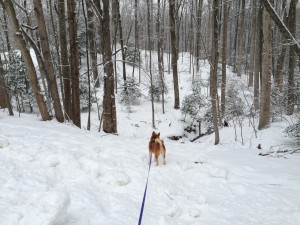 We got snow, perhaps six inches or so. It was too bad that H wouldn't be around to clear our long driveway with the powerful snow blower he bought after the blizzards of 2009 and '10. As a boy growing up in Rochester, New York, he made money shoveling driveways and the occasional roof. He dreamed of one day owning a truly prodigious snow blower. That dream had come true, but once the big red contraption took its place in our garage (alongside a variety of mowers and other items for suburban lawn and garden maintenance), the snows stopped. Last year they resumed, in a big way.  On most powdery white mornings H is out with his monster of a machine. He clears our driveway; he clears neighbors' driveways. He's a local Snow Day hero.
But this time he wasn't here. I have to say it: he was in Aruba, perfecting a windsurfing move, the elusive jibe, a complicated change of direction done while continuing to skim the water. It was something he'd been wanting to do for years.  It required perfect conditions, namely strong, steady wind, which can't be found just anywhere. We'd agreed that he should take the long Presidents' Day weekend and just do it. But I hadn't considered that he was leaving D and me here to face the dastardly February weather on our own.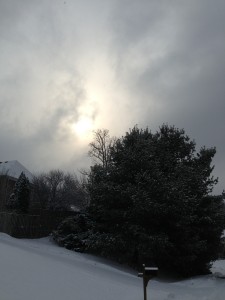 H suggested we FaceTime him so he could coach D on using the snow blower.  He'd shown her how to work it last winter, but the details were hazy. Numerous attempts to start it up failed.  We were about to give up when H realized that one little knob wasn't turned in the right direction.  That done, the machine roared to life and D set off down the driveway. Thank goodness she's her father's daughter.
And while the accumulation wasn't as dramatic as expected, it was more than enough to shut us down. Further cancellations rolled in. No school on Tuesday. No Fat Tuesday Pancake Supper at our church. No school Wednesday, and no Ash Wednesday service at our church and many others.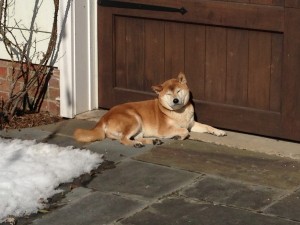 That was just the first series of February snow cancellations. Since then, they've continued, requiring the ongoing reshuffling of plans. Today, for example, with snow beginning early this morning, school was first delayed, then canceled an hour later. With so many days off school, extra-curricular activities are postponed repeatedly.  Rescheduling is tricky, as events pile atop one another. During my daughter's elementary school years, snow days for her were exactly that: unstructured free days to play in the snow. Now they involve the stress of wondering if and when the student-directed One-Acts will take place.  How will they impact previously scheduled activities? And then there's the thorny problem of when to do AP World reading and pre-calculus problems when there's a beautiful snow on the ground and friends who want to take the day off to meet for lunch in town.
Oh, February, aren't you over yet?