Ever since we moved to our home in Northern Virginia in 2001, February has been the month of snow, snow and more snow.  We experienced our first Virginia blizzard in 2003, when twenty inches of the white stuff accumulated on February 15 – 16, just before Presidents' Day.  The timing was optimal:  a weekend, with no one stranded at work or school.  We knew it was coming; we had time to prepare.   
Our daughter was in preschool, so there were no worries about schoolwork piling up.  There were no crucial extracurricular activities for her to miss.  She was overjoyed with the snow, even though it was so deep she couldn't really walk in it.  These were the days when she wore her little red snow suit and could still fit into her baby swing.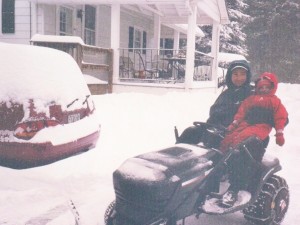 For my husband, these were pre-snow blower years.  He used a plow attachment for his old riding mower to clear our driveway and the big concrete expanse that later became a real back yard.  (See here.)  That weekend, he plowed every few hours, but it was still difficult to keep ahead of the rapidly falling snow.  My parents were visiting from Atlanta, and their red Camry station wagon is mounded with snow.  They used to drive up every six weeks or so to spend time with their only grandchild.  This trip was extended a bit beyond their liking due to the depth of the snow.  They hadn't seen this much snow since my babyhood in Kentucky.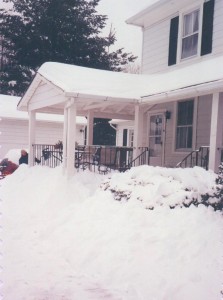 Plowing complete, our old porch was enclosed in its own snow fort.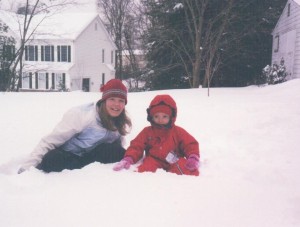 Our daughter had the great pleasure of playing in the snow with her favorite "big girl" friend, Ashley, who lived next door.  Ashley was D's beloved babysitter, and our daughter couldn't spend enough time with her.  Why don't you and Daddy go out to dinner?  Go see a movie, too.  Ashley can stay with me!   D tried to act as though she was sorry to see us go, but she couldn't wave us out of the house fast enough.  Ashley, now married to a Marine and living in Okinawa, was sixteen at the time, the same age D is now.  Gulp.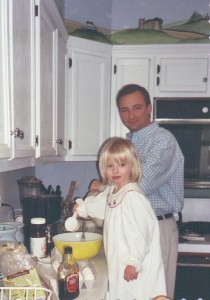 Another unexpected benefit of the blizzard was that it kept H at home that week.  For several years he essentially lived in Cleveland from  Monday through Thursday.  The storm canceled flights and kept him in Virginia.  Here, he and D make Swedish pancakes just the way Grandma Olga taught him.   
I must remember: good things may happen when it snows.