Three years ago, I wrote about my disappointment when the old lilac bush in our front yard produced only one small bloom, high up at the very top.  The shrub had never been as prolific a bloomer as I had had hoped, but as long as I could remember, there had always been multiple blossoms.  It clearly needed some help.  Time for a garden intervention. 
Soon after that lonely little flower faded, my husband and I pruned away some of the older growth, some of the thicker, woodier stems.  The next year, there were a few more blooms.  We've repeated the pruning process every year since, with better results each time.  This spring, it makes me very happy to look out the window to more lilacs than ever.  As I sit at my desk, I can see them waving in the chilly breeze of this sunny April day.  The unusually cool weather has at least one advantage:  the lilacs may stay with us even longer.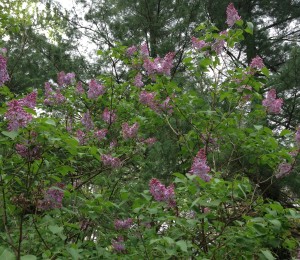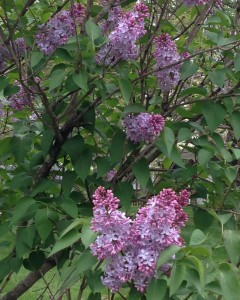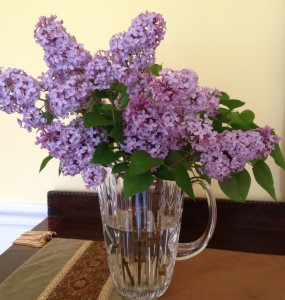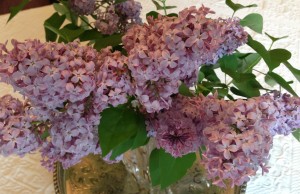 A bouquet of lilacs:  a beautiful air freshener. 
Lilacs tend to droop dramatically soon after cutting.  Once cut, their woody stems don't absorb water well.  Here's how to remedy this. 
Cut flowers early in morning when they're well hydrated.  The sharper your clippers, the better.  Bring a container of water (lukewarm, with flower food added) outside with you and put the flowers in as soon as you cut them.  Remove leaves from the stems.  If you want to add foliage, cut extra stems of leaves only.  Once you're ready to arrange the lilacs in a vase (again, lukewarm water, floral food added), make another cut in the stem.  Pound the stem with your clippers so that the last inch is almost crushed.  This allows better water absorption.  Flowers should stay looking fresh for five days or more.