I'd thought I was done with the Key West posts.  But then I remembered the manatee mailboxes, and the little blue truck that appears to have spent time on the ocean floor, the toothy back yard sculpture, and a few more oddities.  I saw these as I wandered the city's quiet neighborhoods during our winter visit.  They're among the many sights that evoke the quirky spirit and laid-back humor of this unique place.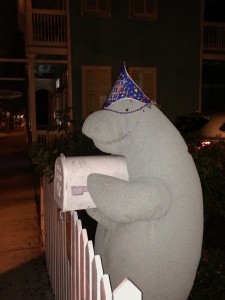 On our walk home from Duval Street on New Year's Eve, we passed this cast concrete postal manatee dressed to party.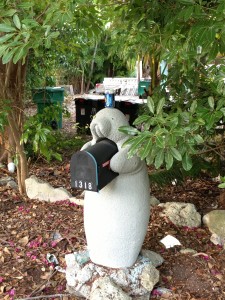 A few streets away, on the first morning of 2015, another manatee mailbox balanced a Happy New Year beer can on its head.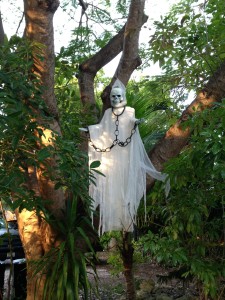 In this shady front yard, a creature left over from Halloween, or a year-round ghost?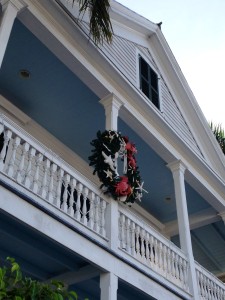 Gracing a white-columned porch, a Christmas wreath adorned with starfish, crabs and lobster.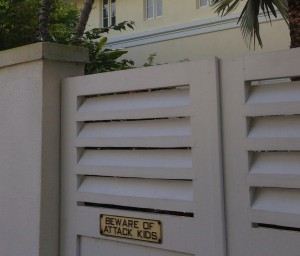 No guard dogs needed for this gated compound.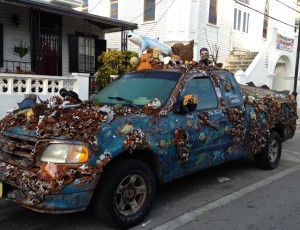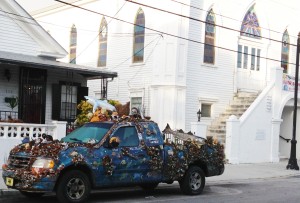 The "Don't Dredge on Me!" truck, ornamented with all manner of sea creatures, some painted, some three-dimensional, for a diverting, barnacle-encrusted appearance.  It protests the proposed and hotly debated dredging of the Key West Harbor Channel for the purpose of allowing even larger cruise ships to dock.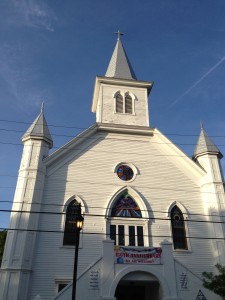 In a classic Key West contrast, the truck, a sort of rolling folk art diorama, is parked in front of this neat white Gothic revival church.  The historic Cornish Memorial AME Zion Church, built in 1903, is named for the freed slave who started the church in 1864.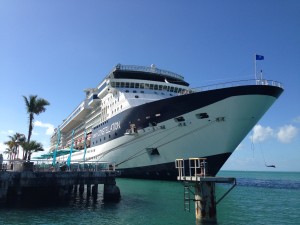 Something that does not belong in a post on the whimsical eccentricities of Key West is the Celebrity Constellation, pictured above, in port during our visit.  I include it here only in reference to the little truck that speaks out against harbor dredging.  Could there be a need for bigger cruise ships in Key West?  Isn't this ship too big already?  Most locals dread the sight of thousands of cruise ship passengers descending regularly upon their island city.  But here's what you'd think would make the proposal a certain no-go:  the Channel is located in the protected area of the Florida Keys National Marine Sanctuary.  It appears ludicrous to argue that dredging could be anything but harmful to marine life and water quality, although proponents  jump through hoops in attempts to minimize the impact.  While the city voted "No" last year to a feasibility study on dredging, the question is not yet completely settled.  May the message of the "Don't Dredge on Me" truck be heard, loud and clear.  And heeded.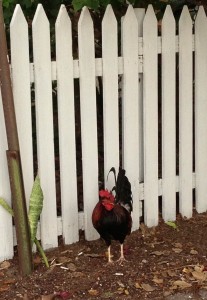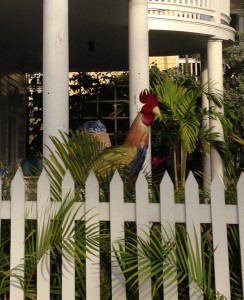 Perhaps as well-known as the Hemingway House cats, freely roaming roosters and chickens, and the art they inspire, are a common sight in Key West.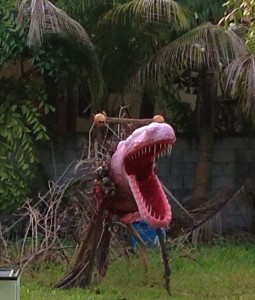 I'm not sure what the artist of this back yard assemblage intended, but I see a pitcher plant monster on legs of tree branches.  As Audrey II demanded in Little Shop of Horrors:  "Feed me, Seymour!"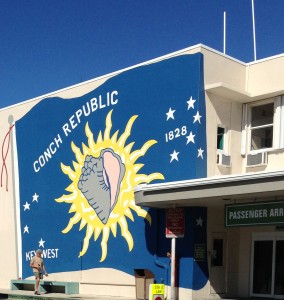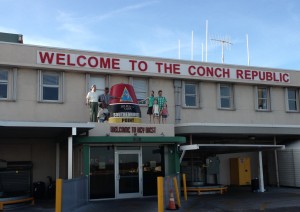 The Key West Airport is tiny and charming. On our next visit, we'll be flying (not driving) in as well as out.