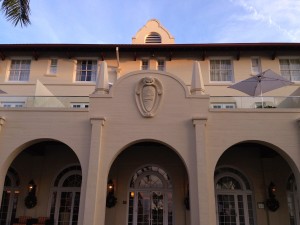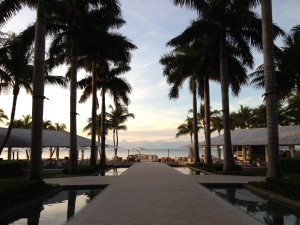 Casa Marina, one of Key West's loveliest resorts, combines the best of old and new.  It's located in a quiet section of the island's south shore, a fifteen minute walk to the heart of Duval Street.  Like several of Florida's grandest old hotels, Casa Marina owes its existence to Henry Flagler.  Flagler, a truly self-made man who dropped out of school at age fourteen to work in a grain store, became a partner in Standard Oil with John D. Rockefeller and a wizard who worked his magic in railroads and hotels.  Nearly all Florida tourism, and much of Florida as we know it today, in fact, owes a huge debt to Flagler.  
Honeymooning with his second wife in St. Augustine in 1883, he was enchanted by the area's beauty but dismayed by its lack of decent hotels and infrastructure.  He built the city's first major hotel,  the Ponce de Leon (now Flagler College), bought a local railroad line and soon began extending it south towards Miami.  Along the way he built more hotels, including two in Palm Beach:  the enormous Royal Poinciana and The Palm Beach Inn (later renamed The Breakers).  Flagler's own mansion, Whitehall, built in Palm Beach in 1902, is now the Flagler Museum.
Before long, Flagler set his sights on extending his Florida East Coast Railroad over open water to Key West, which was then the state's largest city and a busy port.  By 1905, construction had begun on his Overseas Railroad, a project so unlikely that it was often referred to as "Flagler's Folly."  The extension was beset with countless construction difficulties and devastating weather events, including two hurricanes.  Flagler persevered, and the Overseas Railroad was completed in January of 1912, when Flagler was in his 80s and a much-admired figure.  He was greeted with great fanfare by cheering crowds when he arrived in Key West in his own private railcar.  He died a year and a half later, from injuries sustained in a fall on the stairs at Whitehall.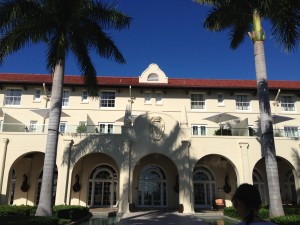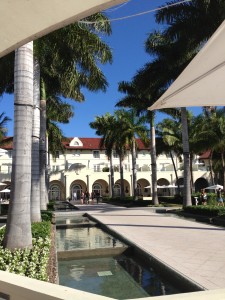 Flagler planned Casa Marina to be the southernmost pearl in his string of luxurious Florida hotels.  He enlisted his favorite architects, Carrere and Hastings, whose designs had included the New York Public Library, the Hotel Ponce de Leon and his own home, Whitehall.  Flagler died before construction began, but the architects held true to his vision for his "House by the Sea." When the hotel opened on New Year's Eve of 1920, it became Key West's swankiest destination.  The arrival of President Warren G. Harding a few days later further enhanced its reputation as the place to be.   
Flagler's original building was extended with flanking wings during the 70s and 80s.  While these don't measure up to the quality and style of the central older section, a recent renovation has eliminated many of the less attractive features of earlier piecemeal restorations.  The resort may be now, more than ever since it's 1920 opening, attuned to Flagler's concept.  Its Spanish Colonial style is classic and stately rather than opulent.  This is no garishly gilded palace plopped down in an unlikely beach setting.  Its creamy white exterior gives it the look of a well-planned, red tile-roofed sandcastle.  On the water side, a deep, high-ceilinged arcade offers a gracious welcome.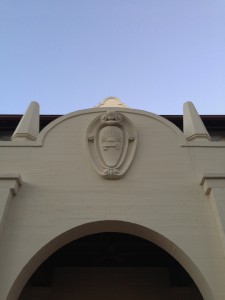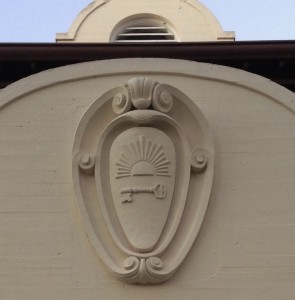 The crest above the center door that leads out toward the beach is said to represent Flagler's Key to Sunshine.  If you want to avoid warm, sunny weather, by all means stay away from Key West.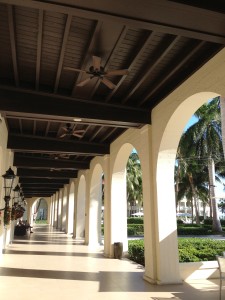 The arcade looks out to the Atlantic.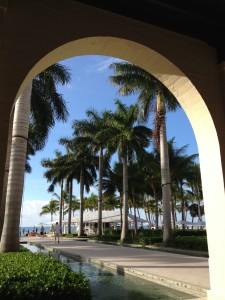 A water walk bordered by reflecting pools and palm trees leads to the beach and separates the resort's two large swimming pools.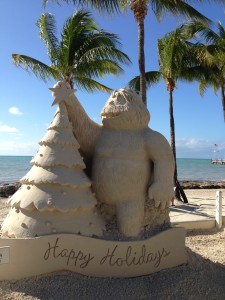 Talented sand artists create seasonal masterpieces at the Casa Marina.  While we were there, Bumble the Abominable from Rudolf set the star atop the Christmas tree.  In the words of Yukon Cornelius, "Looky what he can do!"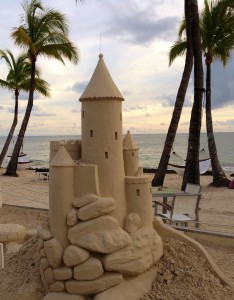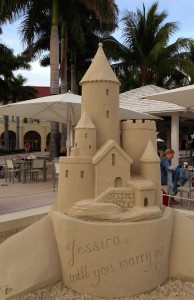 This sandcastle that could have been lifted from of a Maxfield Parrish painting served as marriage proposal. We hope Jessica said yes.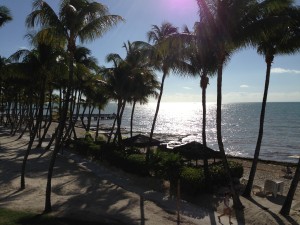 Casa Marina has one of the largest private beaches in Key West.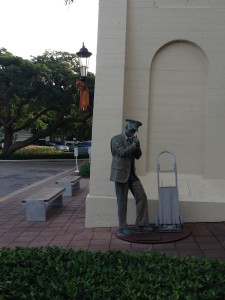 Beside the hotel's main entrance off Reynolds Street stands a Seward Johnson bronze of a bellman taking a cigarette break.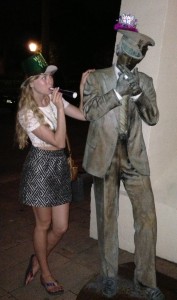 Upon our return from Duval Street on New Year's Eve, our daughter adorned the bellman with a celebratory tiara.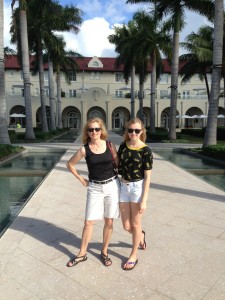 Can we go back yet?  Seems like it's time.