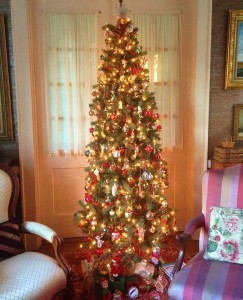 Decorating the Christmas tree in my childhood home was a much-anticipated event.  We usually picked out a tall Frazier fir, typically well shaped and on the thinner side.  An exception was the bushy long-needled pine we somehow brought home during my Kindergarten year, which I wrote about in 2013.  (See Oh. . . Eww. . . Christmas Tree!) It was sparsely and evidently indifferently decorated.  Why we chose such a tree remains a mystery; that's a memory my parents and I have blocked.  I suspect we'd rather not think about it, or other memories it stirs up.  Anyway, my recollections of Christmas in Atlanta include a beautiful tree, pleasingly decorated.  It made our living room especially cozy during December.
We acquired more ornaments each year, but we rarely retired any, unless they were broken and hopelessly beyond repair.  We didn't do themes of color or topic:  no all-pink tree, no Disney tree, certainly no Star Wars tree.  The collection accrued gradually.  Unpacking the same ornaments year after year, then re-packing them in January, they became imprinted on my memory.  Each December I looked forward to unwrapping my favorite ones and finding spots for them on the tree.  I've written about the many homemade ornaments my mother and I produced every year.  We turned out multitudes of candy cane horses, tiny Raggedy Anns and Andys, mice in Santa suits, clothespin toy soldiers, pasta angels, etc.  My home and that of my parents are well-stocked with such items.  But there were other ornaments, some homemade, some store-bought, that were one-of-a-kind.  These remain at my parents' house. 
Since our daughter turned two, it's been our tradition to spend Christmas here at our home in Virginia.  My parents joined us, until two years ago, when they gave up driving long distances.  They'd rather not fly, so they prefer to stay in Atlanta.  This year Mama told me she didn't really feel like putting up the tree.  Daddy, especially, would really miss it, but he felt even less up to the task.  It sounded like my cue to fly down for a pre-Christmas visit.  When I realized I could also miss my daughter's final week of classes before winter break (and all the stress and drama that threatened to entail), it made the decision that much easier.   
So a week ago, I was back in my childhood home, unpacking the many boxes of Christmas decorations my mother had stored so carefully in the attic last winter.  And one by one, I unwrapped all those cherished baubles.  It had been six years since I'd seen them, when we had veered from the usual plan and spent the holiday in Atlanta.  Some ornaments looked nearly as good as new, others showed their very advanced age.  All were as familiar as the faces of dear old friends. 
I'll share them in a few posts to follow.  They may prompt recollections of treasures from your childhood tree.