Today a bizarre election season lurches toward its much-anticipated close.  Seems like we've been cycling through a long series of unsavory thrill rides at a shoddily maintained, near-derelict amusement park.  We wonder how we got here.  Our mothers told us not to go.  We're ashamed to tell our children where we are.  The rides are rickety and clearly dangerous.  Why was the park ever allowed to open?  Is anyone in charge?  Seems like we've been stuck here forever. 
Unsettling funhouse mirrors abound.  Everything is weirdly distorted. Hard to tell what's real, what's an illusion.     
Watch out!, I yell to a friend.  There's one of those evil clowns right behind you! He's got a knife!   
That's no clown, silly!, he says.  It's Santa.  He looks so jolly, and he has great gifts for us! 
I feel sick.  I've lost any sense of reality.   I may be going blind.  I don't know what to believe, or whom to trust.  How do we get out? 
Finally, the exit is in sight.  I see daylight and blue sky.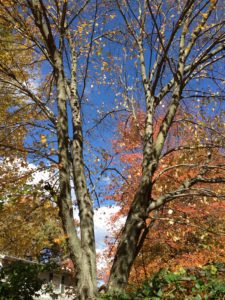 It's a beautiful day.  Go vote.  Maybe we can leave the decaying funhouse behind, at least for a while.