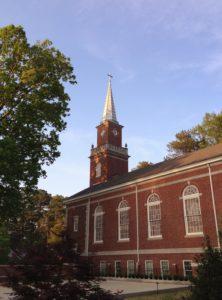 The first year following the death of a loved one, every day brings a loss that must be faced anew.  Holidays, especially, those days of expected celebration, are tough going.  Absence becomes a heavy, all-suffusing presence, a thick cloud of anxious dismay. 
This would be the first Easter without my father.  
And it wouldn't be only my father's absence that would make this Easter different.  My daughter was, at long last, in the final stages of college choice.  She was in the process of comparing the  schools to which she'd been accepted.  Over spring break, she'd come with me to Atlanta and we'd tour Georgia Tech. On Good Friday, she'd fly to Rochester to meet my husband.  They'd spend Easter with his side of the family.  She'd take last looks at the University of Rochester and Union College in Schenectady, NY.  I'd stay in Atlanta.  It would be the first time I'd ever spend an Easter away from my husband and daughter.  But it was being present with my mother, in the face of Daddy's glaring absence, that took priority. 
I didn't like to think about what the day would bring.  The words of that hymn, God of Grace, and God of Glory, kept echoing in my head:  Grant us wisdom, grant us courage, for the facing of this hour.  On Easter morning, around 10:25, Daddy wouldn't be standing by the back door, jingling his keys, looking spiffy in his navy suit and perfectly knotted tie.  He wouldn't be close beside me as we sang the beautiful resurrection hymns in church.  Mama and I would certainly need wisdom and courage to face that hour.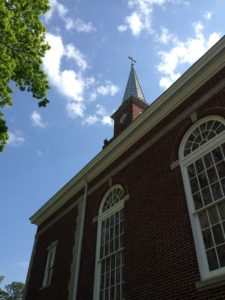 We'd need our faith.  And with it, we'd find comfort in Charles Wesley's words in that perhaps most frequently sung of all the classic resurrection hymns, Christ the Lord is Risen Today:
Where, O death, is now thy sting? 
Once he died, our souls to save,
Where's thy victory, boasting grave?  . . .
Made like him, like him we rise,
Ours the cross, the grave, the skies. 
We'd envision my father, free from the chains of illness that had gripped him at the last.  His unique spirit more beautiful than his earthly presence in the prime of his life, he soars now where Christ has led.  The message of Easter would see us through.  It would give us strength for the living of these days. 
What, I wonder, would we do without our faith?