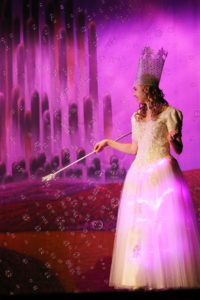 On this first day of the new year, as I look back to 2017, I must say "Whew!"  Last year was packed to excess with major life changes for our family.  It felt like a Netflix series with too many unlikely, simultaneous subplots.  I'm hoping that in 2018 I'll have time to appreciate the scenery and enjoy some quirky character development.     
The stressful process of selling and packing up my mother's Atlanta home, buying the Virginia house, the complicated logistics of the relocation–that's all behind us.  Now Mama is next door, mere steps away.  While the two weeks following her surgery were perhaps even more miserable than her surgeons had expected, she can now move without excruciating pain, sometimes without the aid of her walker.  She made the trek on Christmas day from her place to ours and back, as I had hoped. 
The anxiety surrounding my daughter's college decision is fading into the mists of memory.  After a period of adjustment, she's very happy at the University of Virginia.  We all appreciate the fact that she's a pleasant two-hour drive away from home.  An additional plus is that when she's here, she has a greater appreciation for her parents (and grandmother).  Those mundane, homely comforts–my cooking, her own room, Kiko sleeping sweetly–all 0nce taken for granted, are now recognized as the luxuries they are.  And time zips by.  The breaks–fall, winter, and soon, spring–are upon us before we know it.   
When I was searching for an appropriate New Year's photo, this one of my daughter as Glinda the Good Witch in her last high school musical, The Wizard of Oz, came to mind.  Glinda looks into the distance towards a vision of the glowing Emerald City, which, with a little help from her white magic, has just been revealed.  She's about to send Dorothy and friends off on the final leg of their journey to Oz.  So in a way, she's looking into the future.  Toward a new year. 
Glinda sings this song as she points toward the bright horizon:   
You're out of the woods, you're out of the dark,
You're out of the night.
Step into the sun, step into the light.
Keep straight ahead
For the most glorious place on the face of the earth or the sky.
Hold onto your breath, hold onto your heart,
Hold onto your hope.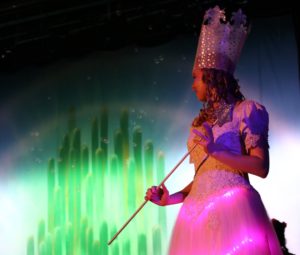 We all get lost from time to time in the metaphorical woods.  But may you start out this new year on a good path, heading toward a good place, in good company.  When you wander off track, may you find your way quickly back into the light.  And may hope and love go with you.