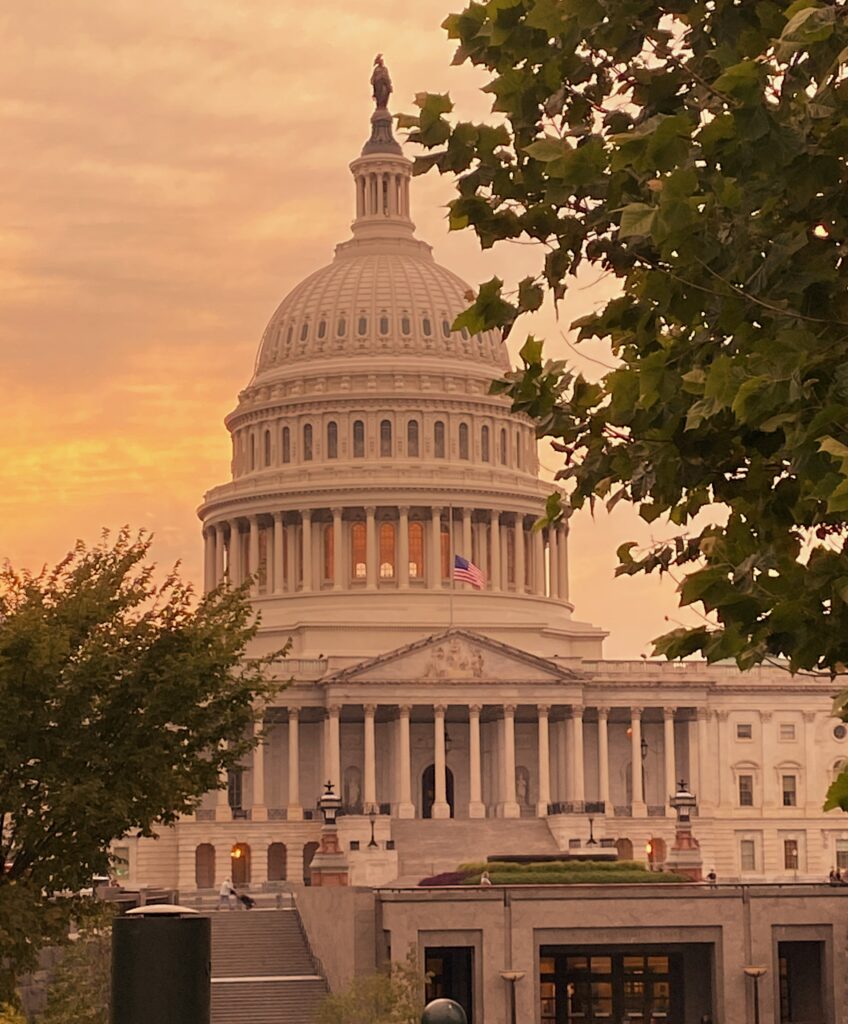 With the passing of the Honorable Ruth Bader Ginsburg last Friday, this world has lost a tenacious and tireless advocate in the cause of justice for all. The second woman elected to the Supreme Court, she served for twenty-seven years, rarely missing a day despite recurring cancer treatments in later life. Last week she lay in state at the U.S. Capitol, the first woman, and the first person of Jewish faith, to do so.
The woman who would become known as the Notorious RBG was born Joan Ruth Bader in working class Flatbush Brooklyn in 1933. Her father, a furrier, had come to the U.S. from Russia at thirteen. Her mother was born in America to parents who had recently emigrated from Austria. She was the second of the couple's two children. Her older sister Marilyn died of meningitis at age six, when Ruth was just over a year old. Once she reached school age, there were several girls named Joan in her elementary school class, and it was decided that she would use her middle name.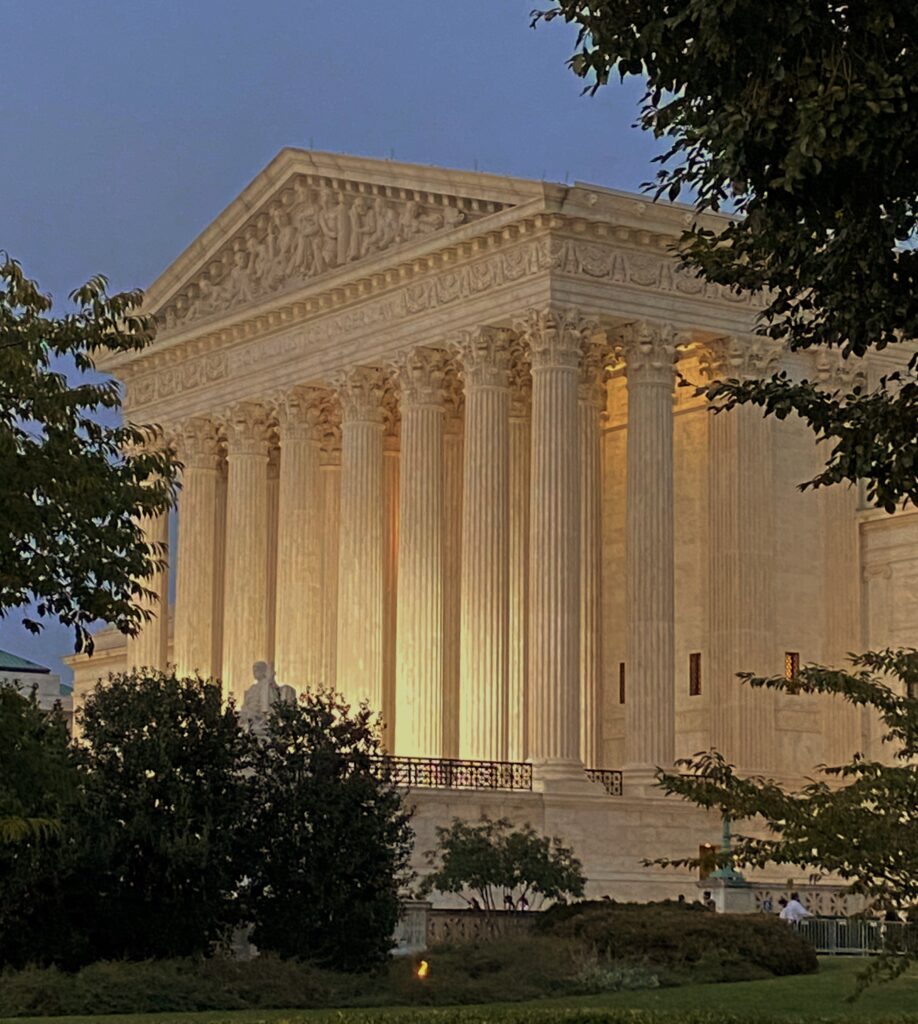 Ruth's mother, Celia, was a powerful influence on her only surviving daughter. Celia was highly intelligent, inquisitive, and hard working. She graduated from high school at age fifteen, but limited resources prevented her from enrolling in college. Instead, she went to work at a garment factory to help pay for her brother's education at Cornell. Celia was determined that Ruth pursue the educational path that had been denied her. She secretly put aside money each week in a college fund. Happily, Ruth, like her mother, excelled academically. Celia was diagnosed with cervical cancer when Ruth started high school. Surgeries and radiation treatments prolonged her life for four years, but she died the day before her daughter's graduation. Ruth was valedictorian of her class, but she missed Commencement to mourn at home with her father. Celia's college fund had grown to $8,000 by that time, but Ruth gave most of it to her father. She didn't need it for her education, because she'd earned a full scholarship to Cornell.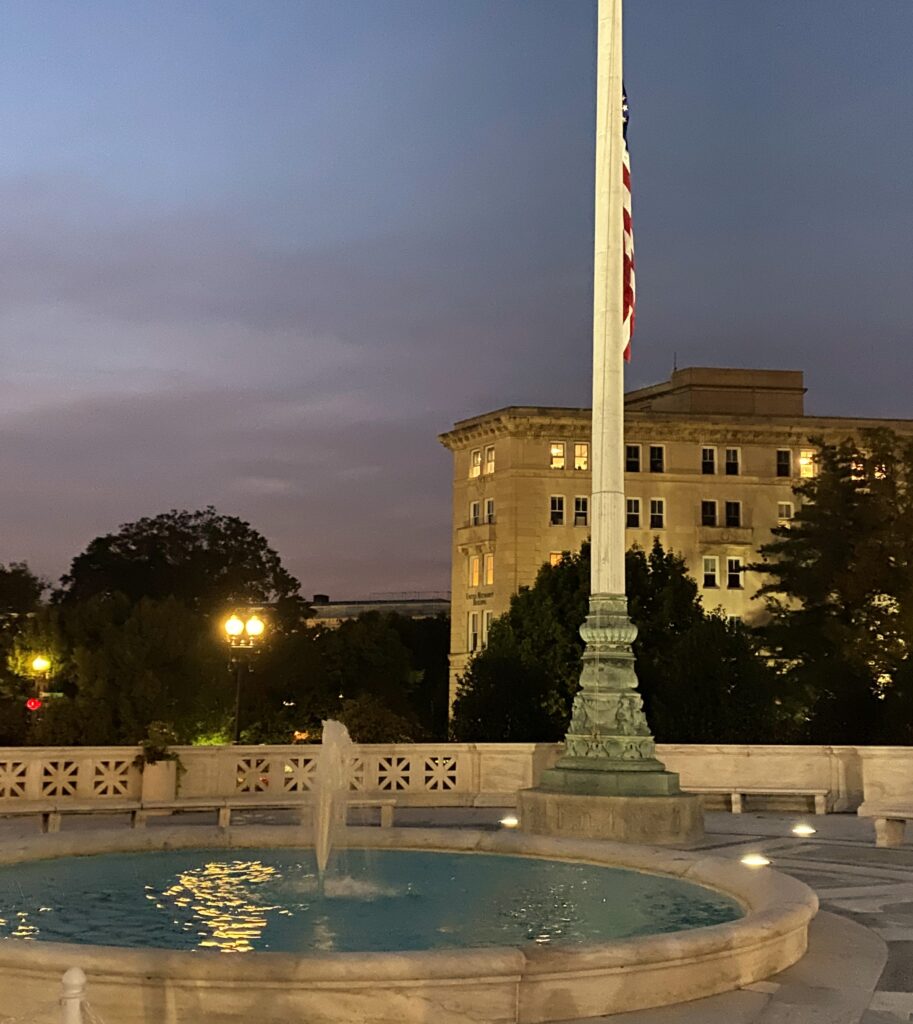 At the university, Ruth Bader met fellow student Martin Ginsburg, whom she described as "the only young man I dated who cared that I had a brain." Outgoing, jovial, and the life of the party, Marty was a foil to Ruth's more serious, quiet personality. They married in 1954, shortly after graduation. Marty was drafted into the Army, and their first child, Jane, was born before long. After two years in Fort Sill, Oklahoma, they moved back east, and both enrolled in Harvard Law School. Ruth was one of nine women out of a class of five hundred. Coping with adversity and maintaining an academic focus while dealing with the illness of a loved one were skills that Ruth had mastered as a girl. They came in handy during her early married life when Marty was diagnosed with cancer. Ruth managed, somehow, to maintain excellence in her demanding studies, help her husband stay afloat with his, all the while caring for him and their daughter.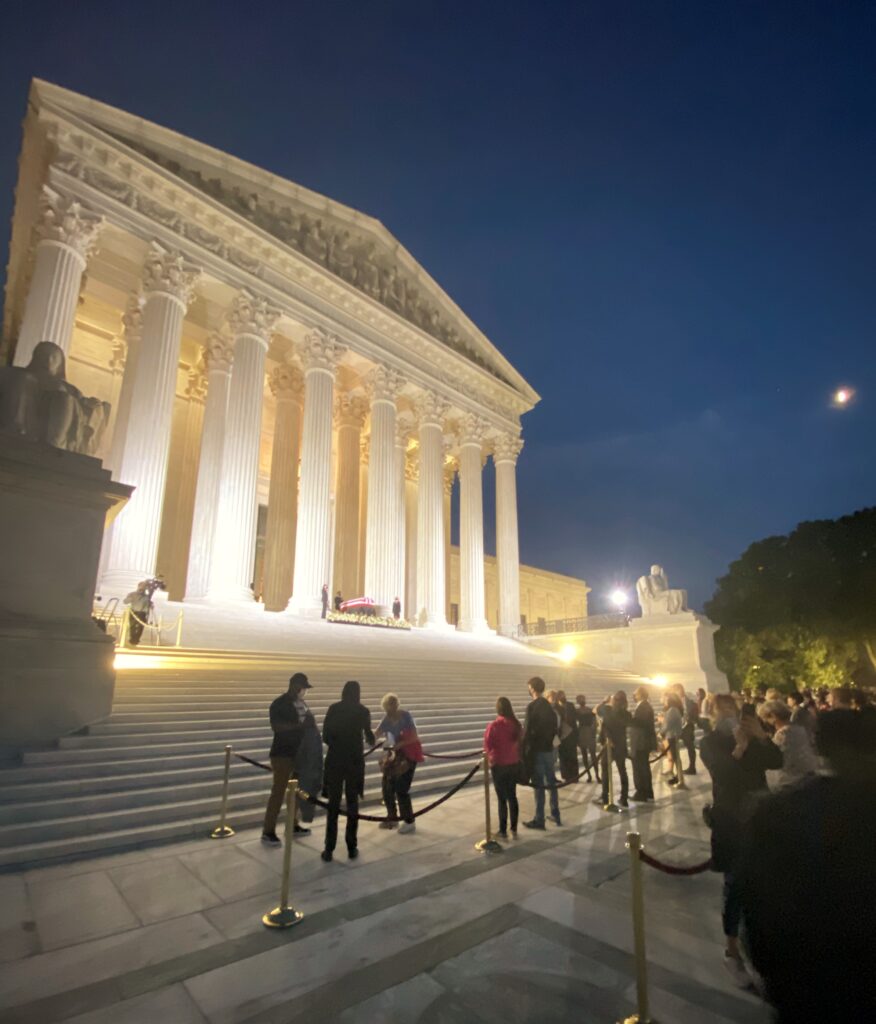 Marty made a complete recovery, graduated, and took a job at a New York law firm. Another year of law school remained for Ruth, so she transferred to Columbia and continued her studies. She made Law Review at both Harvard and Columbia. In 1959, despite graduating first in her class (she tied with a male student), and the glowing recommendations she received from her professors, she found it difficult to find employment. She'd had a summer job at one of New York's premier law firms, but no permanent offer was forthcoming after graduation, from that firm or the other twelve with which she interviewed. After several rejections for clerkships, also because of her gender, she attained a position as a law clerk at the U.S. District Court of the Southern District of New York. Facing the fact that the doors of major law firms remained closed to women through the 1960s and 70s, Ruth's career path turned toward teaching. She taught first at Rutgers and then at Columbia, where she became the first woman to earn tenure.
Along with her academic responsibilities, Ginsburg began to litigate gender discrimination cases referred to her by the American Civil Liberties Union. She co-founded the ACLU Women's Rights Project in 1972, which was created with the goal of removing impediments toward equal opportunity, such as those she had experienced herself. During the 1970s, she argued six pivotal gender equality cases before the Supreme Court. She won five. One of these involved a male plaintiff, a widower who had not been awarded the Social Security benefits to which a widow was entitled. One of Ginsburg's most fiercely held convictions was that neither women, nor men, should be held to narrow, confining gender stereotypes. Her husband agreed, and their loving fifty-six year marriage was marked by the sharing of household duties and the raising of their two children. (Their son, James, was born in 1965.) When President Jimmy Carter appointed Ruth to the U.S. Court of Appeals for the District of Columbia in 1980, Marty quit his prestigious and highly paid job as a tax lawyer in New York to become a professor at Georgetown University Law School. Marty, by all accounts, was Ruth's most dedicated supporter and ardent cheerleader.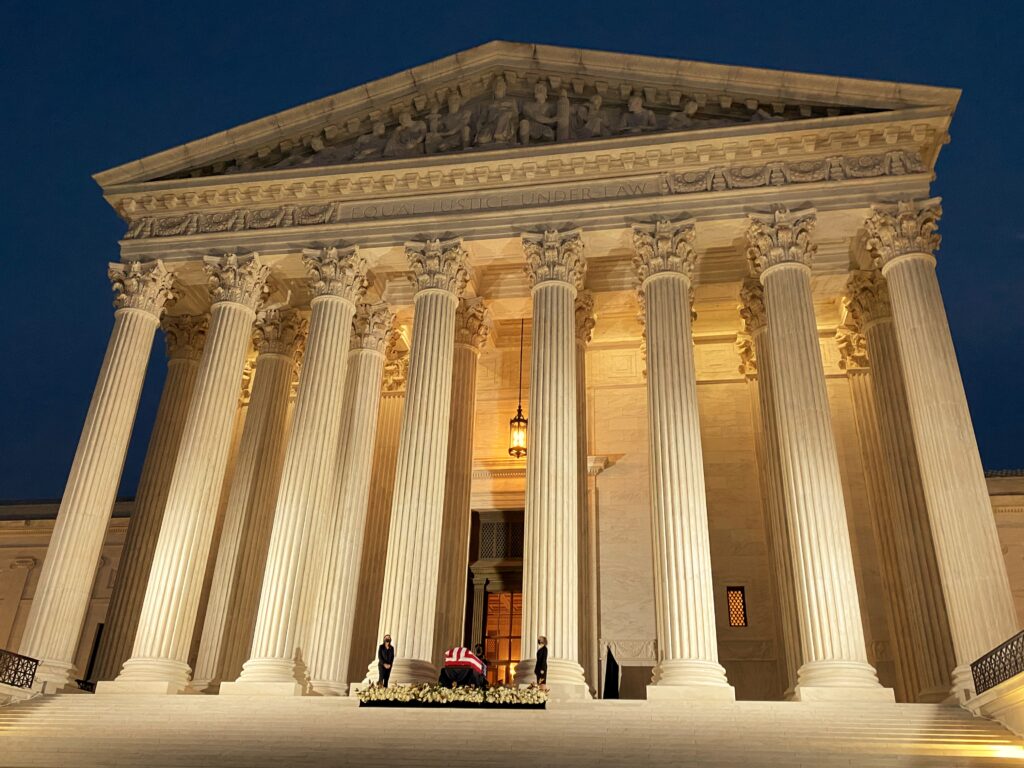 When President Bill Clinton nominated Ginsburg to the Supreme Court in 1993, she was easily confirmed by the Senate, in those less partisan days, by a vote of 96-3. During her nearly three-decades long tenure at the high court, she became known for her powerfully and beautifully worded dissents, which Justice Ginsburg regarded as "appealing to the intelligence of a future day." With the passage of time, the minority opinion (as, for example, in the cases of slavery, civil and voting rights), is likely to become the prevailing one. In the words of the Reverend Martin Luther King, Jr, "The arc of the moral universe is long, but it bends toward justice."*
Rabbi Lauren Holtzblatt's eulogy at Friday's memorial service for Justice Ginsburg focused on a phrase from the Torah featured in a framed artwork in the judge's chambers. One of the core tenets of Judaism, from Deuteronomy 16: 20, it reads: "Justice, justice, you shall pursue." The repetition of the word "justice" emphasizes its significance. The verse makes clear for Jews that one cannot be in right relationship with God while mistreating fellow humans, including the widow, the orphan, the servant, the immigrant, the least and the lost. For the Honorable Ruth Bader Ginsburg, her life's goal and guiding light was the meticulous perseverance, step by step, case by case, in the pursuit of justice, justice, for all people. May her legacy live on. And may the "intelligence of that future day" be quick in coming.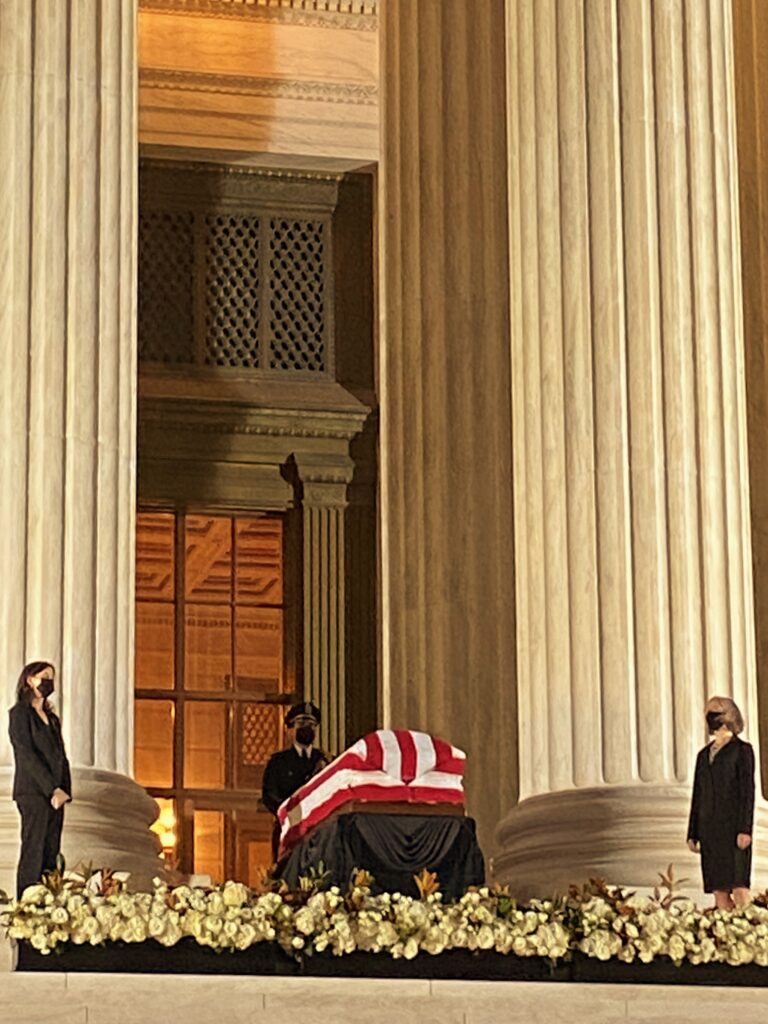 *King's words condense and paraphrase a passage written in an 1853 sermon by the Unitarian minister and abolitionist Theodore Parker.
Many thanks to my friend, the Reverend Dawn-Marie, for providing the beautiful photos documenting the honoring of Justice Ginsburg in Washington, D.C on September 25.