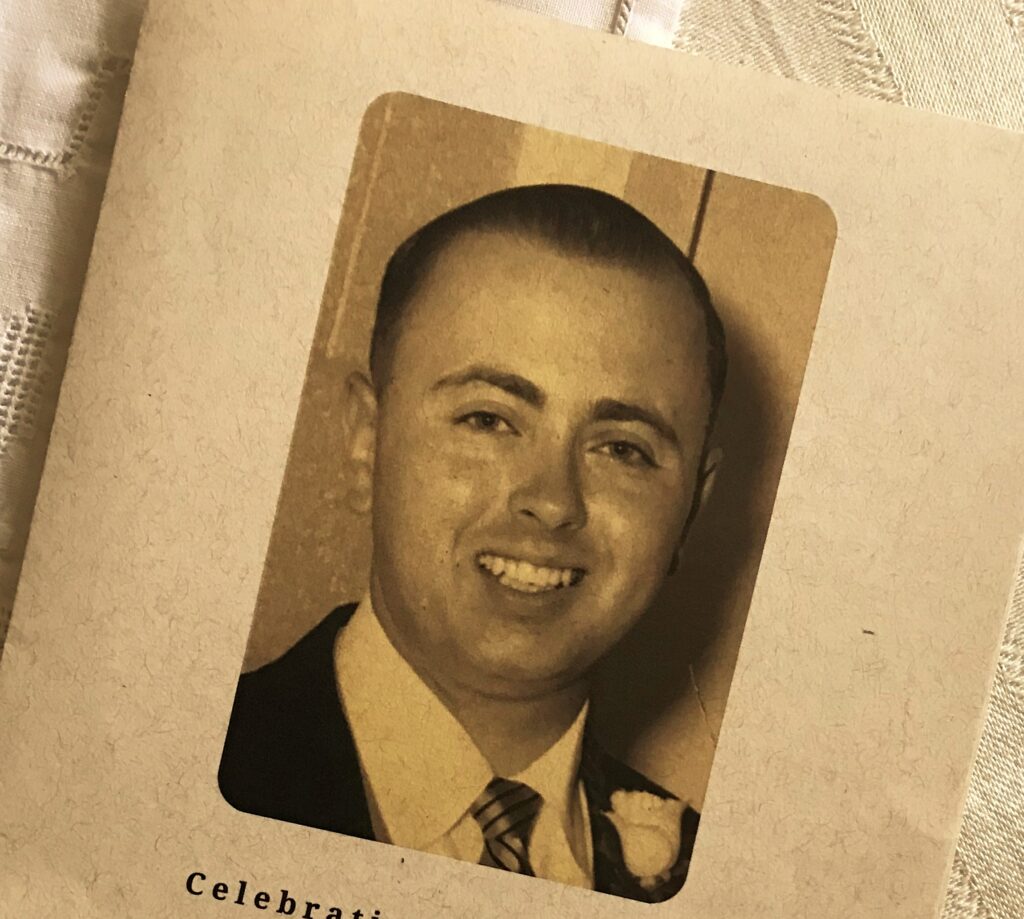 I hadn't planned to dwell on the theme of saying goodbye. But life, and death, rarely go according to our plans.
My husband's father left this world on September 21. We gathered with family and friends in Rochester for his memorial service last weekend, on the day before his eighty-third birthday.
I wrote about H's dad ten years ago, in a series of Father's Day posts. (See here.) I referred to him then as Grandpa, because that was who he was to my daughter. As a grandfather, and as a person, he was kind, caring, and fun-loving. Till the very end, he carried with him a jumbo-sized cache of jokes, puns and silly remarks. Many were eye-rolling bad, but some were hilarious, and all of them were offered with the best of intentions. Grandpa understood the value of humor, of never taking oneself too seriously, and he loved laughter.
My husband delivered a tribute to his dad at Saturday's service, on behalf of himself and his siblings. He wasn't sure he could get through the talk without breaking down. Our daughter was on point to take over, should he find himself choked with tears. He made it through, with a few pauses to collect himself. He touched on several key aspects that made his father unique. He spoke of how his dad's interest in science (including his obsessive talent for electrical wiring), his love of animals and music, his devotion to his family and to God, were manifested in unusual and unexpected ways. These were the qualities that made all those who knew him well nod their heads and smile: Yes, that was Dad. That was Grandpa. That was Jim.
My husband spoke of one particularly admirable attribute his father possessed. This was his gift for discovering something good about nearly every person he met. He always claimed to be shy, but he seemed to love nothing better than striking up a conversation with a complete stranger. Wherever he went, no matter the circumstances, he tended to run into "the most wonderful people." The doctors, nurses and medical staff who treated him (quite successfully) for two types of cancer about ten years ago–they were all "wonderful people." As were the car salesmen, the repair guys, and the elderly couple behind him in line at Tops Market.
Grandpa treated those around him with kindness and compassion. He sought out and encouraged those qualities in others. When he recognized that goodness within, as he so often did, we were sure to hear about it. Grandpa took to heart, and put into practice, Jesus's advice to "love one another." My husband concluded his talk with this question: What would Jim say about me? Am I living as one of those "wonderful people" he valued so highly?
To honor Grandpa's memory, we'll try to do just that.