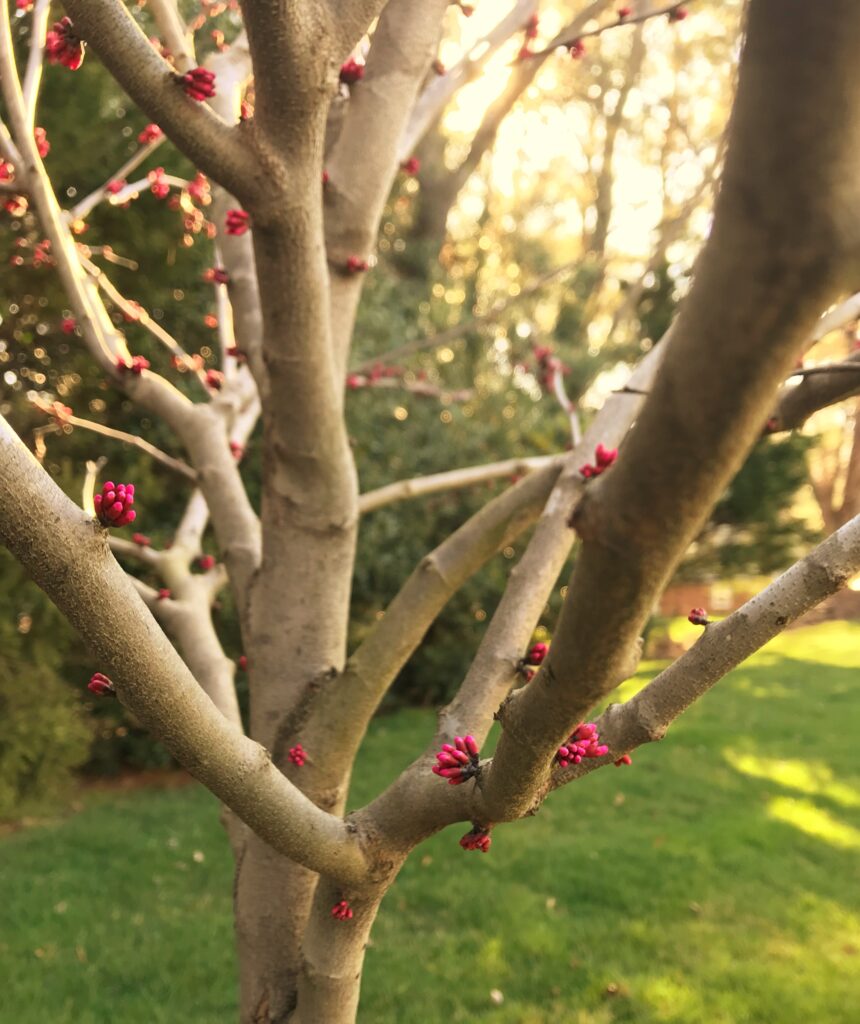 It's a chilly but beautiful Palm Sunday today here in Northern Virginia, a perfect day for observing the swirl of activity that surrounds our side yard bird feeders. In the bright sunshine, the male cardinals glow brilliantly red, and the subtle shading in the feathers of their female counterparts is particularly apparent. Their beaks are as orange as ripe clementines. A pair of goldfinches, recent arrivals, adds to the palette. The male wears a patchwork of flamboyant, purest yellow and the drab olive green of his mate. The light accentuates the rusty red cap of a tiny, ground-feeding chipping sparrow. The swoop of scarlet on the head of a robust red-bellied woodpecker gleams with near-iridescence. An aptly named golden-crowned kinglet put in a rare, brief appearance, hanging upside down from the new buds on a Japanese maple. Each small, feathered creature is a masterpiece of aesthetics and engineering. To watch their fleeting comings and goings on this dazzling day is to catch a breath full of spring's celebratory essence. To be reminded that in our flawed and frightening world, filled with wars, guns and discord, it is still possible to savor a sip of joy. And of hope.
Such a reminder is especially appropriate on this first day of Holy Week. Christians across the globe look forward to the triumph of Easter. But first there is this roller-coaster ride of a week, one that begins on Palm Sunday's jubilant note and plunges to the painful depths of despair on Good Friday. To jump from the high point of Palm Sunday to that of Easter is to miss the point. To do so is to ignore much of what it means to be human, and to be miss out on the marvelous magnitude of grace that is the Easter promise.
Over the past eleven years of Wild Trumpet Vine, I've written numerous times about the days of Holy Week. See here for last year's Palm Sunday post.