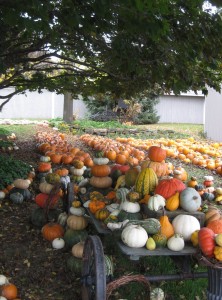 After our return from the railroad tracks, the predicted rain was not yet falling, so we walked past broad flat fields to the Ford Farm Market, a showcase of pumpkin glory and diversity.  On this beautiful old family farm, Tom Swain, a former middle school science teacher, grows a vast variety of pumpkins and gourds.  Signs proclaim the availability of pink pumpkins.  Indeed, some are peachy-pink.  There are pumpkins in nearly every conceivable earthy hue, including white and many shades of yellow, orange and green.  There are also multi-colored varieties, some speckled, some striped, some uniquely patterened.  The range of sizes is equally wide,  from tiny palm-sized pumpkins to enormous giants, and everything in between.  In years past, the largest Ford Farm pumpkins have topped 1,000 pounds. Tom's wife Sharon is a pumpkin carver of great skill and imagination.  Each year she creates a series of gigantic, intricately designed masterpieces.  The family's extensive and charming collection of Halloween decorations is displayed in the barn.
We made no pumpkin purchases because we would soon be flying back to Virginia, although D bought an apple for the walk back.  A cold rain was falling steadily by then, but our cheery dose of Ford Farm fall spirit sustained us along the way.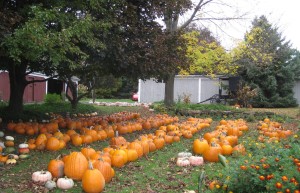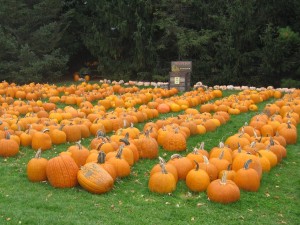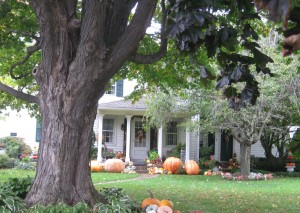 In front of the old farmhouse, more pumpkins, including some of the giant ones Sharon Swain typically carves.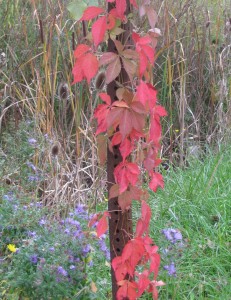 A colorful celebration of roadside vines and wildflowers.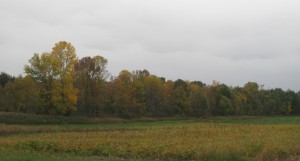 A view of the fields across from the Ford Farm.