It's happened again: another summer has vanished in a blur.  It doesn't seem possible that nearly twelve weeks have elapsed since the school year ended on June 18.  My daughter's homemade chalkboard hasn't been updated since then.  It still looks like this: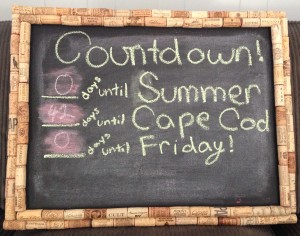 But it's September 7.  While the weather remains hot and humid, it's beginning to look like fall.  Yellow-gold leaves are fluttering down from our neighbors' cherry trees.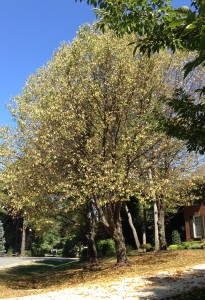 Here in Northern Virginia, it's the first day of school.  My daughter begins her junior year.  Junior year!  Really? She, my husband and I all feel unprepared.    
If I were a kid, faced with writing one of those dreaded first-day What I Did Last Summer essays, I would sit, staring blankly for a while, wondering, What did we do? Seems like I wasn't paying attention.   
I remember the last half of May, however, with a sort of surreal clarity.  My father had emergency arterial bypass surgery, and I flew to Atlanta.  One minute I was dawdling contentedly over a late breakfast and talking easy nonsense to the dog.  The next I was amidst a teeming crowd at Dulles Airport waiting to board a plane.  Waiting.  Anxiously waiting.  Still waiting.  If you're in a real hurry to reach a sick loved one, you can count on extra-long airport delays.  I arrived at Piedmont Hospital late that night, just after Daddy was wheeled to his room after several hours of complicated surgery.  He had a nubby cotton blanket loosely draped around his head and shoulders, giving him the appearance of an old shepherd from a live nativity scene.  His face was frighteningly pale and drawn, but already he was talking, joking.  He was lucid, he was funny.  He was my sweet Daddy, upbeat and happy.  What a relief. 
Mama wouldn't leave Daddy's side, except very briefly, to get a bite to eat or take a quick shower.  She slept on a narrow pull-out chair beside his hospital bed.  Evidence of the truest of true love, after nearly sixty years of marriage, doesn't get any clearer than this.  I spent days with my parents in the hospital, and nights alone in the house I grew up in.  What an odd feeling.  I can't remember spending a night totally on my own there before.  During those rare times in my teens and twenties when my parents left town without me, it was a good excuse to have friends over.  There may have been one night when it was just me and my childhood dog, Popi.  He's been dead far longer than he was alive, but I still hear his soft footsteps, or his nose pushing open a partially closed door.   I heard him last May.  As the old, familiar house creaked and groaned around me, I wished he were there with me again.   
It was slow, slow going, and very scary at times, but Daddy got better.  For a couple of weeks before the surgery, he'd complained of leg pains.  Turns out he'd had almost no blood flow in his lower legs; he was lucky he didn't lose one foot, or both.  He left the hospital after nine arduous days, still quite weak.  Being home was a great relief to my parents, but it meant Mama would be mostly on her own to care for Daddy.  There would be visiting nurses and physical therapists, but her duty would be full time, non-stop.  A daunting prospect.  Fortunately, kind and loving neighbors made it possible for me to return to my Virginia family, who were missing me by that point. 
Maybe because Daddy's surgery and ongoing recovery has loomed so large in recent months, other events have seemed less substantial, less deserving of my complete attention.  When I look back over my calendar, I see proof that we were busy:  there were neighborhood parties, doctor appointments, church meetings, Friday night dinners out, a first-time ever solo trip to Florida for my daughter to visit a friend, our annual Cape Cod vacation, a busy week of Vacation Bible School, and the transformation of our little-girl playroom into a more grown-up TV/entertainment room.  In late August, my daughter had all four wisdom teeth extracted, much against her will.  Given her choice, she would have preferred to postpone indefinitely and take her chances with future pain and inconvenience.  She felt far more miserable than I had expected.  I went through the same thing at fourteen, but have forgotten my level of discomfort.  It couldn't have been too extreme, because I recall being out with a friend's family and attempting to eat a Varsity hotdog only a couple of days later.  Once my daughter was feeling good again, summer was over. 
And now, the last minutes of this first day of the new school year are ticking down.  My eleventh grader will be home before long.  I know better than to ask about her day in a cheerful tone.  I'm bracing for a litany of hardships and grievances.  Maybe I'll be pleasantly surprised.