Just before our recent trip to Atlanta, my daughter somewhat reluctantly admitted to a concern about boredom during our stay.  This made her feel guilty, because she loves my parents, and she knows how much they treasure her, their only grandchild.  But, she wondered, what would we do, for eight days?  This worry was a first for her.  In years past, she has looked forward nearly absolutely to visiting Nana and Papa. 
When she was younger, of course, the bar for fun and adventure was low and accessible.  Beginning with the plane ride, a sojourn in Atlanta was full of thrills, there for easy picking.  Her grandparents' house was an enchanted place, and there was so much to do.  A typical day began with a leisurely breakfast on the screened porch.  D could have Papa's scrambled eggs every morning if she wanted; he was truly happy to make them for her.  Later, we'd wander from park to park, sampling the different types of playground equipment.  We'd "hike" the wooded nature trail by the creek.  We'd visit neighbors, who doted on D as if she were their own granddaughter.  She'd feed their fish, play with their cats and dogs.  In the afternoons, we'd explore a fantastic sea of old toys in the upstairs playroom, or dress up in Nana's amazing vintage creations.  At night, we'd be back on the porch for ice cream and ghost stories. Every day offered wondrous opportunities.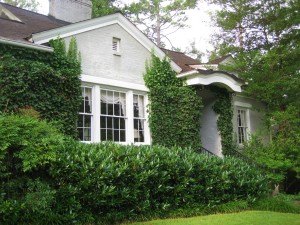 Now that she's a teenager, the magic has mostly dissipated.  While I expect she'll always have a sentimental spot in her heart for her grandparents' home, the silvery jingle of the Southern Express bell is barely audible.  Former childhood pleasures inspire only yawns, wistful sighs and bouts of grumpy melancholy. 
What makes the situation even worse is that, as D grows up, the rest of us are growing older and more jaded.  With each passing year, my parents have less interest in leaving the house for entertainment.  They're not recluses or agoraphobics.  Most mornings, Daddy is running errands.  He zips out and back to Kroger, to the pharmacy, to the bank, to mail a package, to gas up the car.  He returns almost before it seems humanly possible.  But together, my parents  leave home rarely except to go to church, out to eat, or to do neighborly good deeds.  Occasionally they see a movie, and of course there are doctor appointments, which eat up huge chunks of time.  Home is where they really want to be, and I don't blame them.  Home is comfortable; the outside world tends to be far less so. In going out, the pay-off is too small, the hurdles too many.  Unpleasantness abounds: heat, traffic, crowds,  noise.  If I live to be my parents' age, I may well be a hermit. Those aforementioned factors, plus the chance of thunderstorms and the need to comfort my anxious dog, kept me at home last Saturday as H and D went to a Nationals game.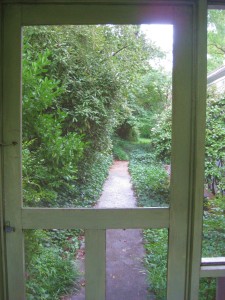 Another thorny issue nagging at D was the dread of spending over a week in a technology vacuum. Several years ago, we presented my mother with an iMac for Christmas. Because we couldn't be there to help her deal with the constant minor quandaries, and she didn't want to be a bother to friends, she gave up.  By the following Easter the iMac was back at our house.  When I suggested to D that we had a  unique opportunity to travel back in time, to experience the life of an earlier era, before household computers, cell phones, cordless phones, or Wi-Fi, she was unmoved. She didn't want that kind of time travel. Her iPhone would be rendered nearly useless.  She would be cut off from her network of friends.  And, I realized, with some alarm, she would be primarily dependent on me for amusement.  My husband, who is often as restless as a teenager, would be with us only for the first weekend.  We needed to make some real plans, or suffer the consequences.