As I've mentioned, just a mile down the road from our quiet cottage on the beach in Truro is bustling, partying Provincetown, incredibly rich in its offerings of theatrical and musical entertainment.  This small seaside town has been a mecca for the visual and performing arts since the turn of the twentieth century. We try to sample something new every year.  But no matter what else we do, we always devote at least one late night to the music of Bobby Wetherbee.  
The ageless Bobby Wetherbee has been entertaining audiences in Ptown for fifty years.  From June to October, Thursdays through Sundays, he's at his piano in the lounge of the Central House at the Crown & Anchor.  He's a beloved icon, and our family understands why. 
Bobby's musical gifts were evident early.  He recounts how, at age three, he sat down at the piano and simply began playing fluently.  Shepherded by his mother, who gave up her own acting career to be his manager, he was performing by age six.  He trained in voice, piano and acting, first in summer stock and private lessons, and  later at the New England Conservatory.  He's had long-running gigs in New York, at the St. Regis (in the famous King Cole Bar) and at the Carlyle, and in Boston at the Copley Plaza.  Bobby makes his home in Boston and spends winters in Palm Beach.  But summer finds him in Provincetown, and Provincetown sure is lucky. 
We discovered Bobby twelve years ago as we were walking with my husband's parents down Commercial Street after dinner.  We were drawn to  lively, infectious music spilling out from the Landmark Restaurant, where he was playing at the time.  A vivacious, strikingly tan man was holding forth at a piano positioned immediately by the open window.  A tightly packed crowd surrounded him, singing along enthusiastically.  The song was a family-friendly standard, perhaps Zip-a-Dee-Doo-Dah or Do-Re-Mi.  Our preschool-age daughter knew it as well as we did, and we all joined in.  My husband took her in his arms so  she could get a better view.  When Bobby noticed our group, he sang the rest of the song directly to our little daughter.   We added our appreciative applause to that of the patrons inside, and Bobby blew D a kiss.  She was delighted.  We all were. 
After another year of enjoying a too-short taste of Bobby's music from the street outside, we all agreed:  we wanted more.  Since then, we always catch Bobby's show.  Sometimes H and I go with his sister and her husband.  Sometimes H's parents join us.  Sometimes we all go.  We've brought our daughter along many times. 
Bobby's performance is compelling in its vitality. His repertoire is wide-ranging, but he favors classics and show tunes from the 1940s on. He doesn't pause between numbers; he doesn't take breaks.  In fact he never seems to tire.  One song segues smoothly into the next.   He may hold a final note for an improbably long interval, never losing volume or breath, before launching, with gusto, into the next song.  He pauses only to take the occasional exuberant swig from his ever-present water bottle.  One medley transitions into another, and the momentum builds: Dorothy Fields, Cole Porter, George M. Cohan, Irving Berlin, The Sound of Music, and on to Chicago. He may include a couple of his own songs, perhaps the spirited break-up song History, or the poignant That's a Lie (which he wrote at age twelve).  You get the sense that Bobby knows what it means to win and lose at love, and to celebrate life, with humor and compassion, through the good and the bad. 
The unique appeal of Bobby's show is hard to explain.   Certainly he has heaps of talent, but it entails far more than talent.  I've been to piano bars, to British pubs, where the crowd sings along happily, and it's fun.  But Bobby makes the experience truly special.  His presence is effervescent, warm and outsized, and he is extraordinarily generous.  Nearly every night, he welcomes a professional or amateur to step up to the piano for a solo.  Sometimes it's a fellow musician visiting from out of town, or a young performer fresh from a local revue.  Often it's Tony, Provincetown's ebullient Director of Tourism.  Bobby's encouragement and his nuanced piano playing bring out the best in a singer.
Or would-be singers.  Bobby's generosity extends to his entire audience. Not only does he invite the participation of everyone in the room; he somehow convinces each one of us that we're really good. He brings us in almost conspiratorially, makes us a crucial part of the show. Toward the end of All that Jazz, he slows down the tempo and proclaims, "OK kids, this is the time when we sell it!"  You find yourself thinking:  he needs us; he can't do it alone!  And then the entire room resounds joyously with "You're gonna see your Sheba shimmy shake, and all that jazz!  She's gonna shimmy till her garters break!  And ALL THAT JAZZ!!  We're all in show biz, and gosh, we're terrific!  Bobby makes you believe it, and you love him for it. 
An evening with Bobby Wetherbee attests to the unifying, civilizing power of music.  The audience at the Crown & Anchor spans generations and is diverse with a capital D.  But with song after song, false boundaries and perceived differences–all the stumbling blocks we set up to keep us apart–they melt away.  By the time the standing-room only crowd combines voices to join our gracious, considerate host in God Bless America, or another patriotic favorite, the dream of peace on earth seems not only possible, but likely.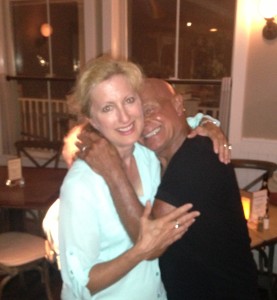 This photo, taken in August after a show, captures Bobby's generosity, kindness and warmth:  he hugs me as though I'm the star.  He makes me think, while I'm with him, that I could be.  That's why he's the real star. 
Thank you dear Bobby, for the music.   We'll see you next summer.