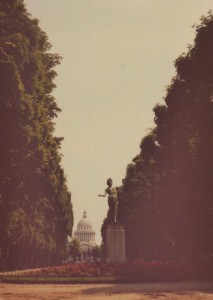 From the Pantheon and our hotel, it's an easy walk down rue Soufflot to the grand gated entrance to the Luxembourg Gardens, a green oasis in the heart of Paris's streets of stone and brick.  The name is proof that the French don't forget their history.  In the early seventeenth century, the land was owned by the Duke of Luxembourg.  The palace and gardens owe their existence to Marie de' Medici.  After the assassination of her husband, Henry IV in 1610, the Italian-born Queen needed a change of scenery and a move from the Louvre.  She bought the land in 1612 and commissioned a palace and gardens inspired by her memories of Florence's Pitti Palace and Boboli Gardens.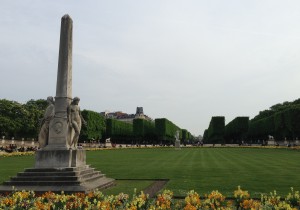 The fifty-five-acre park features expanses of perfectly manicured lawn, bordered by allés of carefully tended horse-chestnut trees and bright flowers that change with the seasons.  Many statues accent the greenery.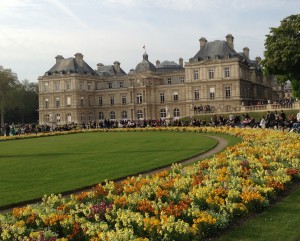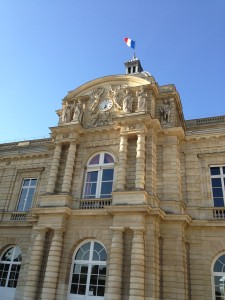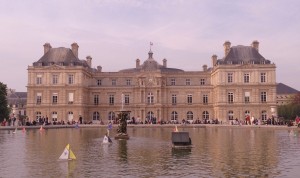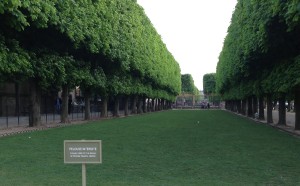 Lawns are scarce in Paris and highly prized.  Early on during my Parisian student summer, our group was picnicking in a park.  We noticed an approaching gendarme, gesticulating enthusiastically.  We thought he was happy to see us.  Soon it became evident that we had mistaken his exasperation for overt friendliness.  We learned then that the pelouse is typically interdit. In the Luxembourg Gardens, some of the lawns are preserved by alternating pedestrian access.  While the above panel was off limits, a nearby one was populated by picnickers and sun-seekers.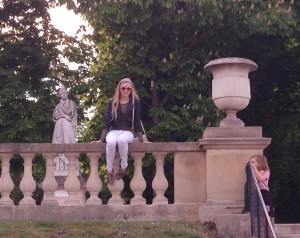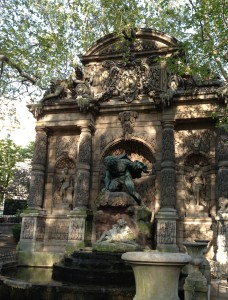 One of my favorite spots in the city is the Gardens' Medici Fountain.  The strangely beautiful, grotto-like structure reminds me of something I'd hope to see in a dream.  It stands at the end of a short allée of chestnut trees.  Even on the hottest summer days, by the fountain it's cool and quiet in the welcome shade.