No doubt about it: I was a tourist in the city that had once been home. The experience was as unsettling as I had anticipated. Familiar buildings turned up in unexpected places. My identifications were often completely wrong. That building there–I think it's the Horse Guards. . . What does that even mean? I used to know. Oh, it doesn't matter–it's not the Horse Guards at all. Too many landmarks looked different, not because of any real changes, but because of the frayed edges of memory. This is what I had feared.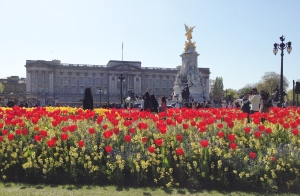 Reassuringly, some sights, such as Buckingham Palace, were much as I remembered them. Its gardens of red and yellow tulips were spectacular on this bright spring day.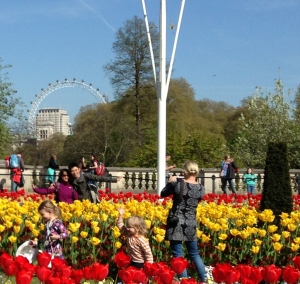 A major change, though, is the fact that the London Eye is visible from nearly every point in the city. I hadn't expected it to be such a background constant.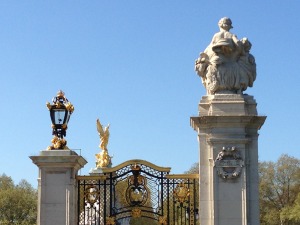 The Victoria Memorial and the Palace Gates were as grand as ever.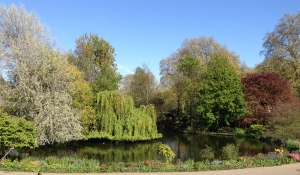 St. James's Park was dressed up in the Easter-basket colors of early spring.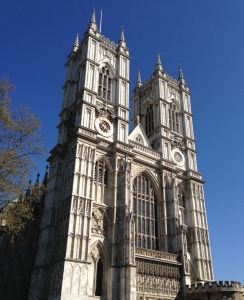 Westminster Abbey hadn't picked up and walked away. It was whiter and cleaner than I'd ever seen it before. During my first visit, in 1975, it was still blackened with nineteenth-century soot.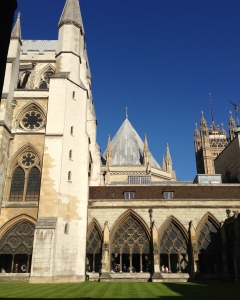 The lawn of the Cloister was perfectly manicured in that oh-so-British style.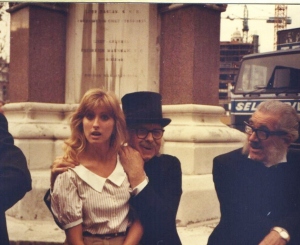 During a visit in July 1982, my friends and I posed with a group of jolly actors in period costume outside the Abbey. I tried to recreate the photo with H on this trip, but the results only highlighted time's passage, and not in a good way.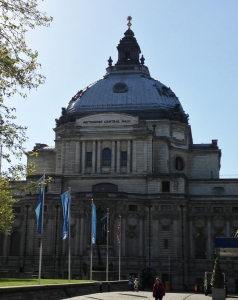 Some prominent landmarks kindled no spark of recognition. One example is this monumental building facing Westminster Abbey. It's Methodist Central Hall, dating from 1911. As a lifelong Methodist, I'm disappointed in myself that I have no recollection of it. The headquarters of the United Methodist Church in the U.K., it serves as a conference center, concert venue and home to a large congregation with a vital and active mission. The expansive auditorium topped by its enormous dome was meant to evoke open-air camp meeting pavilions, such as that in Ocean Grove, New Jersey. Next visit, I'll remember. Also, I'm going inside.