Wild Trumpet Vine is no food blog, and I'm no foodie.  But I do cook regularly, and my family generally appreciates my efforts.  My squash-hating husband had a business dinner the other night, so it seemed like a good opportunity to cook the acorn squash the squirrels had provided.  It turned out well, and I think it merits a post. 
Like my husband, I used to have a squash aversion.  Growing up, winter squash was rarely served at our family table.  Sautéed zucchini and yellow summer squash with onions and tomatoes was a summer stand-by, but we tended to view the winter varieties as purely decorative.  Unseasoned, unsalted squash was a a staple, though, at a friend's house.  Every time I stayed for dinner, it seemed, it was on the menu.  Knowing it wasn't my favorite, my friend enjoyed squirting the mushy stuff between the gap in her  teeth, pre-braces. 
It's not surprising, then, that with the exception of butternut squash for  soup, I've avoided most of the cold-weather varieties.  Until earlier this fall, I had never cooked acorn squash, nor even considered cooking it.  Now I know what I've been missing.  It's a far remove from the bland, gooey stuff I recall from childhood.  One acorn squash, sliced in half and baked, yields two perfect, scallop-edged, edible bowls that beg for some sort of filling.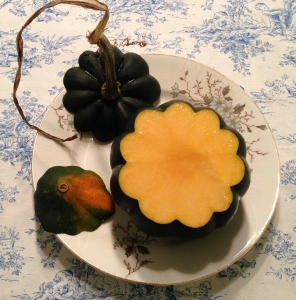 Here's how I cooked that squash:
I trimmed the ends to create a level surface, then sliced the squash in half.  I drizzled the halves with olive oil, and seasoned them with salt and pepper.  I put them in a glass baking dish and added about an inch of water to the bottom.  I cooked the squash in a preheated oven at 400 degrees for about 50 minutes. 
While the squash was cooking, I made a simple stuffing, using what we had on hand.  In a cast-iron skillet, I sautéed an onion in olive oil until not quite caramelized.  I added baby bella mushrooms and bell pepper, chopped.  A further exploration of the crisper drawer yielded one last zucchini and some flat-leaf parsley.  I chopped and added these.  For a bit of filler, I rustled up some bread crumbs from a toasted hot dog bun.  (We were otherwise out of bread.)  I added a little chicken broth, some sage and ground pepper and let it all simmer until the squash was done.  Just before serving, I filled the squash with the stuffing mixture.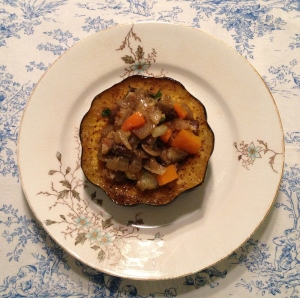 My daughter, a more adventurous eater than her father, appreciated the look and taste of the squash and its stuffing.  We both enjoyed the attractive practicality of the edible bowl.  It's a remedy for erasing decades of bad squash memories.  I'd like to say it might even work for my husband.  But that might be going a bit too far. 
Thanks again, squirrels!